This article is outdated. We have already published a full review.
Bare-bone 3MP snapper
The Samsung S5260 Star II is equipped with a 3 megapixel fixed-focus camera that can take photos with a maximum resolution of 2048x1536 pixels. The hardware is very bare-bones - all you get is the camera, no flash or lens protection, not even a shutter key.
However the camera interface is nicely touch-optimized and has a number of nice built-in features like smile shot, preset scenes, on-screen guidelines and panorama mode.
For a 3MP snapper, the camera on the Samsung S5260 is actually pretty good. Noise levels are low and there's a decent amount of detail in the photos (though the work of the noise reduction algorithm is visible in the trees and foliage).
The photos usually turn out with pleasing colors and contrast. Here are several photo samples, so you can judge for yourself.






Samsung S5260 Star II camera samples
The Samsung S5260 Star II offers video recording too, but it's nothing to get excited about - it can only manage QVGA at 15fps. Still, we wouldn't use it for anything other than MMS. Now here's a sample if you want to check it out.
Here's a video sample from the S5260 video sample at 15fps.
Basic browser and average connectivity
The Samsung S5260 Star II is not particularly impressive in terms of connectivity – you get quad-band GSM/GPRS/EDGE but no 3G. To its credit, it does have Wi-Fi b/g/n, which means you won't miss the 3G connectivity when there's a hotspot around.
The Samsung S5260 web browser looks very much like its Bada OS sibling but it doesn't offer much functionality. There is autosuggestion for the URL bar, which means you won't have to type much on the uncomfortable keyboard.
There are bookmarks too along with history list and a list of most visited sites (displayed as thumbnails). The browser supports kinetic scrolling and one-finger zoom. That about exhausts the list of browser features - there's no text reflow or Flash support.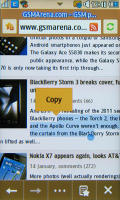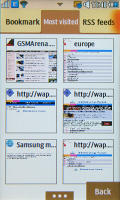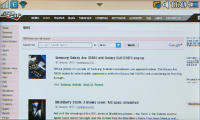 Copying text • The Most visited feature • Browser in landscape mode
First impressions
We had some nice time with the Samsung Star II. We used an early pre-production sample for this review so there are bound to be changes in the user experience.
Some things didn't even work right off the bat – like the SNS integration, for instance. The Samsung Apps store is something else we'll have to revisit – it was empty when we tried it (and perhaps not even complete).
But does the Samsung S5260 deserve the star in its name? Well, the answer is "not quite". We were pleased to see the updated hardware – it looks so much better than the original, especially with Wi-Fi b/g/n added to the mix. And the TouchWiz 3.0 UI is great, for a second it had us fooled that the Star II actually runs Bada OS.
But when you factor in other features – no multitouch, no 3G, basic camera and browser, the upgrade over the original Samsung S5230 Star and its offshoots (such as the Wi-Fi enabled S5230W) doesn't seem that big.
Still, the original Star sold in over 30 million units despite it didn't have Wi-Fi and only had a nasty proprietary port. But it first came out about a year and a half ago and we think even entry-level touch handsets are entitled to some upgrade.
Looking through our database, there are plenty of similar phones in terms of specs – both feature phones and smartphones – so the market success of the Start II will depend on the price. We hope it will be capable of matching the success of its predecessor.