Software overview
The Samsung S5360 Galaxy Y runs Android 2.3.4 Gingerbread with TouchWiz 3.0, which is a nice surprise. We didn't expect this entry-level smartphone to be in step with the latest Android.
As usual in TouchWiz, you can have multiple homescreens - a pinch gesture will "zoom out" so you can see all homescreens, add new ones (up to 7 panes in total) or delete unneeded ones. You can do the same to the pages of the main menu.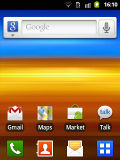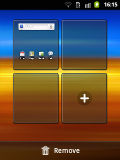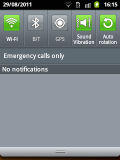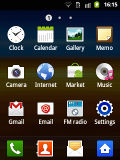 TouchWiz on Samsung S5360 Galaxy Y
You can add as many widgets to the homescreen you can fit - which isn't all that much, considering the low screen resolution limits the available space.
The phonebook of the Galaxy Y features the same goodies as the phonebooks on high-end models. In the list of contacts you can swipe a contact right for a call or left for a message - a very convenient shortcut.
Each contact info page has four tabs - Info (phone numbers, email addresses, etc.), History (call and message history), Activities (social network updates) and Media (online photo albums). The phonebook supports Facebook, Twitter and MySpace with which to fill the last two tabs.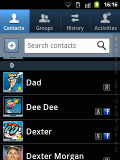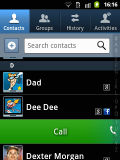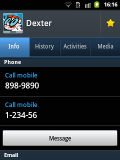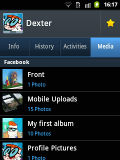 Swiping for a call or message • checking out a contact's details
The messaging app is standard TouchWiz stuff too - it supports threaded messaging with options to manage each thread or individual messages of a thread.
The small screen, however, is not very suitable for typing as the on-screen QWERTY is quite small, especially in portrait mode. You can use the preloaded Swype keyboard too, which is quite forgiving when it comes to misprints but it takes some getting used to.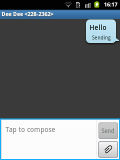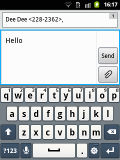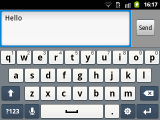 Threaded messaging • Small on-screen QWERTY
The Samsung S5360 Galaxy Y comes with a basic 2MP fixed-focus camera but it offers a good set of features like geotagging and smile shot. You also get scenes and image effects.
The browser renders pages trouble-free and supports pinch zooming, multiple tabs, text reflow and other goodies. However, the small screen limits the amount of text that fits and the low resolution means text loses sharpness very quickly as you zoom out.
There's no Flash in the browser as the CPU is an ARMv6 unit, which is incompatible with the Flash plug-in.
As to organizer features, you have the traditionally rich Android set of tools, complete with a Quickoffice document viewer (DOC, XLS, PPT and PDF).
First impressions
The Galaxy Y line targets the young and users looking at their first smartphone. It does so by offering attractive features at a price that practically closes the gap between feature phones and smartphones.
The S5360 Galaxy Y offers a sensible smartphone experience and its two weak spots - the screen and the camera - were to be expected in this price range.
On the plus side, you get a relatively fast CPU, 3G connectivity, Wi-Fi, GPS, a solid browser (which lacks Flash, but still) and even a doc viewer. The Android Market will offer plenty of games, but also handy tools and productivity apps.
As touchscreen feature phones are losing their price advantage, it gets harder and harder to justify not getting a smartphone. The S5360 Galaxy Y promises excellent bang-for-the-buck and could be a best-seller like the Star used to be a couple of years ago.