Everyone's invited
Samsung Galaxy Y S5360 review: Everyone's invited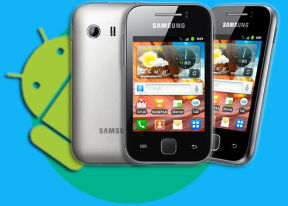 Android market got a facelift
The Samsung Galaxy Y has the latest version of the Android Market, featuring a facelift with a bit of WP7 styling. New sections are available such as Staff Picks, Editor's Choice and more.
Upon launch of the Market app you're greeted with the tiled interface of the Featured window. A swipe to the right takes you to the Categories view.
You have Top Paid, Top Free, Top Grossing, Top New Paid, Top New Free and Trending (the ones with growing popularity).
Downloading an application is done easily and won't require more than a couple of seconds.
What we didn't quite like about the new Android Market layout is that you'll be forced to do a lot of scrolling if you want to go to a specific category and there isn't a listed or tabbed menu for quicker access.
Organizer and apps
The organizing capabilities of Android have reached extremely high levels the past couple of years. And as with most Galaxy smartphones, the S5360 Y is equipped with all the necessary apps.
Let's start with the calendar app. It has four different types of view - agenda, daily, weekly and monthly. Adding a new event is quick and easy, and you can also set an alarm to act as a reminder.
There are also the home-brewed Notes and My Files apps. The first one has not changed since Galaxy S times and is very comfortable to use - you can scribble notes easily, choose different colors for your notes and more. The My Files application is a file manager that can give you access to the entire file system of your phone.
The Samsung Galaxy Y is equipped with an FM radio with RDS. The interface is simple – there's a tuning dial and you can save as many as 4 stations as favorites. You can also play on the loudspeaker, but the headset still needs to be plugged in to act as an antenna.
The voice recorder is easy to operate and comes preinstalled on the Galaxy Y. You can record as many sound clips as you like and the only limitation is the memory you have on your device. The list tab shows all of your recordings sorted by date.
Quickoffice is here too and will allow you to view docs hassle free. Editing, however, will require a paid purchase on your part.
There are also a calculator, alarm clock, timer, stopwatch and more apps preinstalled on the Galaxy Y. But should you find yourself in need of a new organizing app the Android Market is full of free choices that are excellent for the most part.
G(PS)oogle maps
The Samsung Galaxy Y packs a GPS receiver, which got a satellite lock in about three minutes with A-GPS turned off. A-GPS can speed this up quite a bit, but requires Internet access.
Google Maps is the app of choice and offers the latest touch optimizations like the two finger rotation and tilt, it also features navigation, search for POIs and much more.
Probably the coolest part of Google Maps is the Street View mode. If the Street View is available in the area you're interested in, you can enjoy a 360-degree view of the surroundings. When the digital compass is turned on it feels like making a virtual tour of the location!
Google Maps comes complete with Navigation, which can do voice-guidance for free. Availability is still limited though (not all countries have the option), and it relies on Internet connection or the uncomfortable map caching (you'll need to go through your entire root to load it up on the phone).
Still, even without Navigation, there is some kind of guidance: your route and current location appear on the screen so you'll reach your destination eventually, but you'll need a co-pilot to read you the instructions for that one.
The Galaxy Y doesn't come with a third-party SatNav solution preinstalled but you can easily snatch one off the Android market. There are both paid and free options on offer.