Typical Flash-based Samsung UI
Samsung S5550 Shark 2 comes with the classical Samsung non-touch Flash-based user interface. The usual suspects are here - animated backgrounds on the main menu and home screen, lively colors and stylish icons.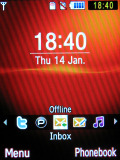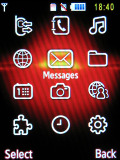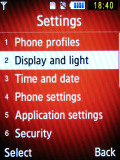 The user interface is well familiar
The user interface layout has remained intact since last year's Samsung Ultra b, except for the new shortcuts toolbar at the bottom of the homescreen. It's not something we haven't seen before - the CorbyTXT and Emporio Armani have it - but it's surely a handy thing.
The shortcut bar has 15 customizable slots and you can assign almost anything there. Links to the most popular social networks, messaging and Google are the default assigned shortcuts, but you can change them anytime.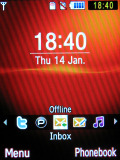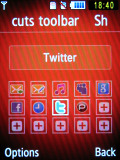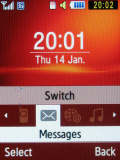 The shortcut bar • settings • application switch
The so called Application switch is also on board and lets you quickly toggle between calling, texting, browsing and running Java Apps. The Java apps section allows you to run several Java titles simultaneously - so it's a basic task switcher.
Samsung S5550 comes with the standard Google services, Palringo IM client, RSS reader, a bunch of trial games, FM radio with FM recording plus Image and Video editors.
Social networking integration stretches even further to having a dedicated item in the main menu called Communities. It automatically downloads the upload settings for a set of your favorite social networking sites and even allows you to store you login details so you don't have to enter them each time you access those websites through the Communities or try to upload content from the file manager - the S5550 Shark 2 stores your credentials for you.
The Communities item gets you links to websites such as Facebook, Picasa and Flickr and the ability to directly upload files. You can also preset your login details so you don't have to.
Image gallery is passable
Samsung S5550 Shark 2 picture gallery is an inherent part of the file manager and not a separate application. It displays the pictures as a list with a small thumbnail next to each filename. You can sort imaged by date, type, name, and size.
As the S5550 doesn't have an accelerometer, you can toggle portrait or landscape viewing modes by pressing the confirm key.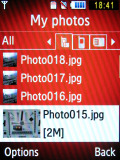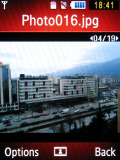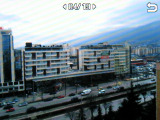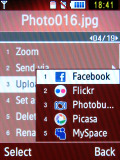 Portrait and landscape modes are available for the gallery
Music player is good enough
The S5550 Shark 2 music player is a pretty decent application that hasn't seen much change either. It allows filtering tracks by author, album, genre and composers. You can also choose to play either the tracks you've recently listened to, or the ones that you've played the most. If that doesn't seem enough, you can create your own custom playlists.
You can activate various sound effects courtesy of DNSe 2.0 (including Megabass, Bass enhancement, Stereo widening, Dynamic sound, Surround effect and Music clarity) and there is a choice of three different visualizations, two of which include album art. They all look pretty nice but are hardly anything revolutionary.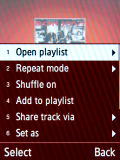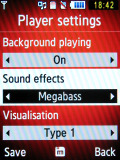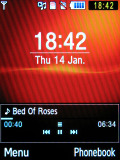 Some of the player settings • controls from the homescreen