5 megapixel camera
Samsung S5550 Shark 2 is equipped with a 5 megapixel camera with a maximum resolution of 2560 x 1920 pixels.
The camera interface very much resembles that of the last year's Ultra b. It is decently user-friendly but still needs some time spent getting used to it. However, the available settings are quite a lot so we are willing to forgive the somewhat complicated menu.
Some of the more important settings are picture size, shooting mode (single shot, multi-shot, mosaic, and frame), scene (normal, portrait, landscape, night, etc.), effects (black and white, sepia, negative etc.), white balance, exposure metering and ISO settings.
The additional camera settings include wide dynamic range and anti-shake.
The D-pad offers another set of options including focus mode (auto-focus, macro or face detection), flash on/off, exposure compensation and shutter timer.
The face detection feature itself works relatively well but is not capable of recognizing several faces so you might have issues focusing on group shots. The smile shutter however which automatically takes photos when a smiling face appears.
The picture quality of Samsung S5550 Shark 2 passes the line, but didn't meet our expectations. The produced detail is enough to satisfy most of the users, but the noise levels are just irritating and definitely need some more work. Colors and contrast are just fine.
As far as video recoding is concerned, Samsung S5550 Shark 2 is pretty much a disappointment. The best it managed to pull out are QVGA videos at 30fps, which is quite unimpressive by our books.
Web browser seems fine (for the segment)
The Web browser of Samsung S5550 Shark 2 is decent for its class and usually renders pages pretty well. There are some exceptions the Net Front browser struggles with but those are hardly frequent enough to bother you. However if you don't stick to the default page size things can get uglier and rendering errors are way more frequent.
The browser offers landscape and fullscreen views and also some nice features like mini map and the virtual mouse pointer. If you browse elaborate pages, the desktop view mode is more appropriate, while for simple sites it's better to use the smart-fit view.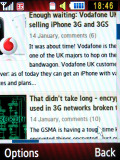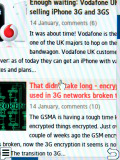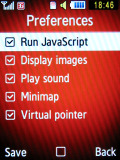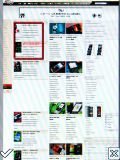 The browser offers fullscreen and decent page rendering
The web browser lacks proper Flash support and though it can handle some basic Flash banners, Flash video is a no-go.
First impressions
The new Samsung Shark line is the non-touch analog of the already highly successful Corby family. It offers distinguishable design, varied form factors and low to mid-range functionality.
The top dog among the Sharks - the S5550 Shark 2 has an AMOLED display, a 5 megapixel camera plus tons of extras and 3G connectivity with HSDPA support. The specs list packs everything you may want for a mid-range phone targeting again the social networks fans.
We admit the design is certainly not our cup of tea, but taste is a personal thing, Only time will tell whether the Sharks will bite off some new market territories, but given the right price and proper marketing campaign, the new product line just might turn up as successful as the Corby one.