This article is outdated. We have already published a full review.
User interface goes TouchWiz 2.0 Plus
Samsung is slowly moving towards their Bada OS, but the trusty TouchWiz user interface is not forgotten. It has been refined since our last meeting and enough has changed to earn it the Plus suffix. Some of the interface elements have a new look, so now they closely resemble the mock-ups of the Bada OS we've seen.
The transformation is by no means complete, but the Bada OS is based on TouchWiz and Samsung have been trying to unify the user interface regardless of platform, so we can see TouchWiz on feature phones creeping closer and closer in looks towards Bada.
Current TouchWiz users will feel pretty much at home with the Samsung S5620 Monte – you get three different non-scrollable homescreens that you can alternate by sideways sweeps. The current selection is indicated by three numbered circles at the top of the screen.
The main homescreens feature is the widgets – you can place around as many as you can fit.
Instead of the traditional tray on the left, on the Samsung S5620 Monte the widgets tray has been moved to the bottom and is opened by a gear icon in the top left corner.
In case some of you have missed it, widgets are nifty mini-apps that reside on your home screen. Some of them seem to have more purpose, such as the calendar and world clock, image gallery or the mp3/radio players, while others range from fun to pointless.
The main menu stretches over several different screens (up to ten), which are sweep-scrollable sideways. That way almost all apps are accessible straight from the main menu, arranged in a flat iPhone-like structure. You will only need to dig deeper for the settings.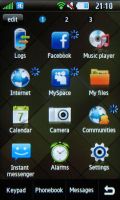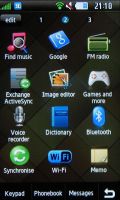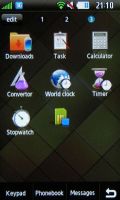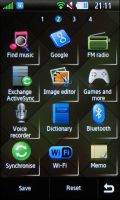 The main menu has a flat iPhone-like strcture
The Samsung S5620 Monte, like most recent Samsung phones, comes complete with multitasking. Pressing the menu key toggles between the application and the main menu, a long press brings up the task manager.
The task manager has a nice 3D view and a more classical grid one. You can alternate or even close the tasks straight from there. A "End all applications" button is also present in case you don't want to waste time closing applications one by one.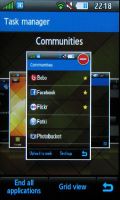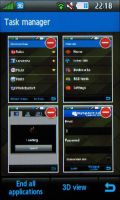 The Task manager packs a cool 3D view mode
Following in the footsteps of Samsung S5600 Preston, S5230 Star and the S8000 Jet too, Smart Unlock on the Samsung S5620 Monte allows users to not only unlock the phone but open a menu item or an application - even dial a contact - just by drawing a letter on the unlock screen.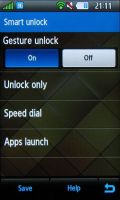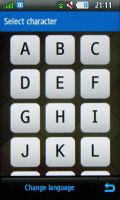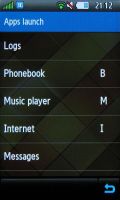 The smart unlock is one of the best things about the S5560
Each letter from A to Z can be set to trigger one of those actions. For instance, you can use it to start features like the music player, messaging, web browser, Java apps or the dialing keypad. It also makes it a piece of cake to call some of your favorite contacts without even needing to unlock the phone.
The Samsung S5620 Monte features an accelerometer, which serves both for screen autorotate and for turn to mute, or as Samsung call it, "etiquette pause".
Photo contacts is a fun way to browse your favorite contacts – it uses a fake 3D environment and shows up to 8 contact pictures in an arc. You can scroll them up and down and dial the one you want. It's a slightly gimmicky interface, and we doubt that it will turn out to be practical in everyday use. Instead of a dedicated app, Photo contacts is now a widget you can place on the homescreen.
Another helpful widget is Google Pointer – it combines a search bar with shortcuts to Google Maps and Gmail. There are also social networking, ActiveSync and other helpful widgets, but we'll get to them later.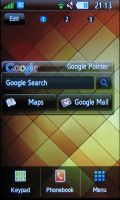 Google Pointer is one of the most helpful widgets
Here's a video displaying Samsung S5620 Monte in action: