This article is outdated. We have already published a full review.
Excellent connectivity and browser
The Samsung S5620 Monte is very capable in the connectivity department with quad-band GSM and dual-band 3G with 3.6Mbps HSDPA. For local connectivity there's Wi-Fi, so you don't have to rely solely on carrier Internet connectivity. Of course, there's also Bluetooth and the microUSB port, plus a hot-swappable microSD card.
The S5620 web browser is the excellent WebKit-based web browser, developed in-house by Samsung. With full Flash support, kinetic scrolling and one-finger zooming it is one of the finest web browsers we have seen so far, especially on a feature phone.
The software on the Samsung S5620 Monte sample we tested wasn't quite yet complete, but panning was very responsive and fast and the double-tap plus one finger zoom combo make for almost effortless zooming.
Applications and a whole lot of widgets
We won't go into detail - the Organizer section of the S5560 Monte is just like the one on other Samsung feature phones running TouchWiz. We're just going to point out the highlights.
The Office document viewer for one - it's a regular feature of TouchWiz, but it's still a big deal for feature phones. Office 2007 documents are supported, which is good news if you have to view a file saved with a recent copy of Office.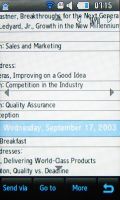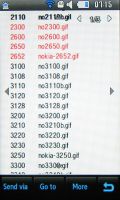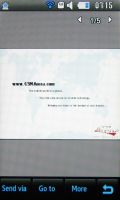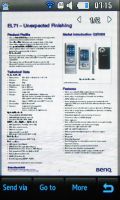 Samsung S5620 has no problems handling office documents
Exchange ActiveSync support is also present, which should appeal to corporate users. There's even handy widget, which lets you perform synchronization, create a new email, check for new emails and toggle push messaging. It can be minimized so it doesn't take much space.
Samsung S5620 MOnte comes with the Palringo instant messenger preinstalled. It supports various protocols – Gtalk, ICQ, AIM and MSN. It can handle multiple chats at once and has the option to share your location. Registration is easy and adding new services is pain-free as well.
Facebook and MySpace are easily accessible through their preinstalled applications. Both apps have dedicated widgets, which offer the basic functionality right off the homescreen.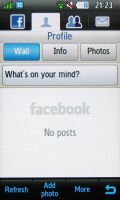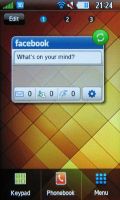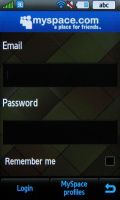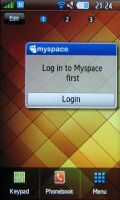 Facebook app • The Facebook widget • The MySpace app
Twitter doesn't get a dedicated app, just a widget. While it looks comfortable enough to post a tweet, it doesn't look that good at all if you have more than just a few tweets to read.
There's a Bebo widget as well.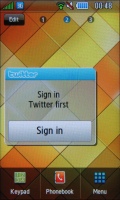 The Twitter widget • The Bebo widget
The Emoze app offers push updates for your Gmail, Outlook WEB Access, Facebook and generic POP3 and IMAP email accounts.
There's also an extensive editor for photos as well as the Communities app, which helps you upload data to content sharing sites like YouTube, Flickr, Facebook, MySpace, Picasa and a few others. It will automatically resize images and has a handy account manager.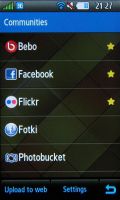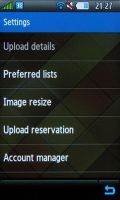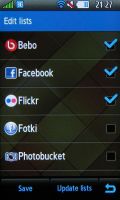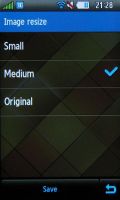 Communities will help you with your image uploads
Finally, there's Google Maps, which is not really a substitute for proper SatNav software, something that the the Samsung S5620 Monte sadly lacks.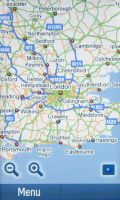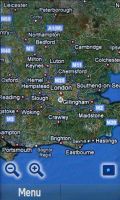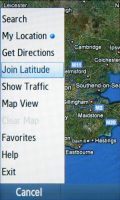 The well-known Google Maps application
First impressions
The Samsung S5620 Monte certainly has an edge on affordable touch phones with its 3G, Wi-Fi and GPS capabilities. But it's stepping on the toes of mid-range smartphones whose prices keep coming down.
Smartphones shouldn't be underestimated - the ability to install additional native applications (including a choice of SatNav solutions) lets you use the hardware you paid for to the fullest.
Let's take a quick peek at the competition that is already out and about without getting into too much detail.
The Samsung B7300 OmniaLITE matches most of what the Samsung S5620 has got to offer, but tops it with Windows Mobile 6.5 OS and a 667MHz CPU plus built-in Office document editor, DivX/XviD support and the possibility to install navigation software. It covers WinMo with TouchWiz so on the surface both phones have very similar interfaces.
Three HTCs also make the cut - the HTC Touch2, HTC Touch 3G and HTC Tattoo. The first two run WinMo, while the Tattoo is powered by Android. They have smaller 2.8" HVGA screens. The Touch 3G has been out for a while so you could probably find a good deal on it, and the Tattoo has fun back covers that can be personalized and the Android OS is really on the up and up.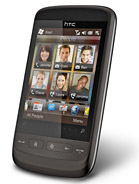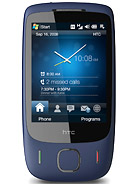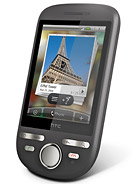 HTC Touch2 • HTC Touch 3G • HTC Tattoo
The Nokia 5800 XpressMusic is still hanging around, the nHD resolution screen and the rich retail box - 8GB microSD card, TV-out cable and a carrying case - mean it scores a high bang-for-your-buck rating. And there's the Nokia 5800 Navigation Edition if it's the GPS that led you here in the first place.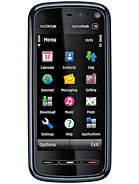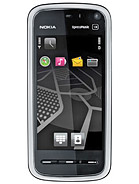 Nokia 5800 XpressMusic • Nokia 5800 Navigation Edition
The feature phone is a dying breed. Samsung's Bada OS aims to create "a smartphone for everyone" and all the other manufacturers seem to be heading that way too. But if it happens that the Samsung S5620 Monte is one of the last midrange feature phones, then feature phones will surely go out with a bang. It's the latest result of the march of feature phones towards catching up with smartphones, while offering unsurpassed simplicity of use.