Bare-bone 3MP snapper
The Samsung S7070 Diva is equipped with a 3 megapixel autofocus camera that can take photos with a maximum resolution of 2048x1536 pixels. The hardware is pretty bare-bone - all you get is the camera, no flash or lens protection, nothing besides the shutter key.
It's good that the camera still has a number of nice built-in features including the Samsung proprietary wide dynamic range option, the anti-shake digital image stabilization, face detection, smile shot, blink detection as well as viewfinder gridlines.
The Samsung S7070 Diva offers video recording too, but it's nothing to get excited about - it manages QVGA at 30fps.
The camera interface is nicely touch-optimized - it's the same interface as on the Samsung Jet. The autofocus settings are not visible on the viewfinder, which is our only major quibble. We'd like to remind you again that we tested a very early version of the Samsung S7070 Diva so things are subject to change.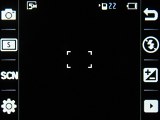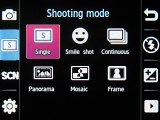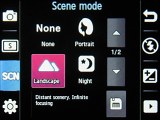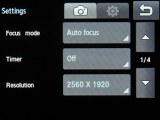 The camera user interface - don't mind the flash settings, this isn't the final version of the interface
Unfortunately, we won't be publishing any camera samples as our pre-productionsample of S7070 Diva it's not really ready for prime time in that department.
Two of the advertised Samsung S7070 Diva camera features - the Beauty Effect and the Lomo Effect are not present in our unit, but we've seen enough of clever image effects to know they can't be a selling point.
First impressions
The Samsung S7070 Diva is certainly female-targeted - the default UI theme is called Feminine if further proof was needed. It's style over function with the S7070 Diva and the diamond-patterned back has nothing to do with a certain species over at the HTC camp where geeks find their thing.
With the S7070 Diva it's ladies time. Similarly equipped to the Samsung S5230 Star, the Samsung S7070 Diva will hardly try to match its sale numbers. But that's not necessarily a bad thing. The S7070 Diva is clearly focused on getting a specific target audience interested. Value for money and decent performance aside, the Samsung Star obviously isn't hitting a homerun with the female audience. And that goes for most of them affordable touch phones too. Save perhaps for the LG Pop.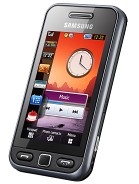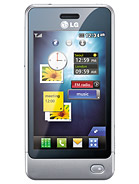 Samsung S5230 Star • LG GD510 Pop
It seems the segment of affordable touchscreens has been largely oblivious to the needs of female users. The Samsung S7070 Diva will be trying to do something about it.