More than meets the eye
Samsung S7220 Ultra b review: More than meets the eye

Telephony on a good level
Making phone calls with Samsung S7220 was OK with no reception issues experienced for the time of our review.
You can also use the Search as Spelling feature which appears in the options menu once you type some digits on the homescreen. It's actually Smart Dialing as you've seen it on other handsets. It will look up for names corresponding to the letters of the typed digits almost eliminating the need to enter the phonebook. we mentioned earlier. The handset checks up both names of the contacts, unlike the U900 which only searched the first names.
We also did our traditional speakerphone test with the Samsung S7220 Ultra b. Here is how it ranks along some of the other handsets we've measured recently. It performs on a good average level, ranking just about the middle of the table. You can find more info on the test itself and the other tested handsets here.
| | | | | |
| --- | --- | --- | --- | --- |
| Speakerphone test | Voice, dB | Pink noise/ Music, dB | Ringing phone, dB | Overall score |
| Apple iPhone 3G | 66.1 | 62.1 | 71.7 | Below Average |
| Nokia 6220 classic | 70.7 | 65.8 | 69.8 | Average |
| Sony Ericsson W902 | 71.0 | 71.5 | 75.7 | Good |
| Samsung S7220 Ultra b | 71.2 | 67.0 | 76.7 | Good |
| Nokia 5320 XpressMusic | 74.3 | 66.6 | 78.3 | Very Good |
| LG KF750 Secret | 75.6 | 72.7 | 82.8 | Excellent |
Phonebook: if it ain't broke don't fix it
The phonebook of Samsung S7220 Ultra b hasn't budged an inch, compared to, say, the U900 Soul. Up to 1000 contacts can be stored with multiple fields. It can display the names from the SIM card, the phone memory or both at once. Searching is done by gradual typing of the desired contact's name.
Quite a number of different information fields are available for each contact. You can store up to 5 numbers, 4 email addresses, URLs and so on. Each contact can also be assigned a specific ringtone and picture, as well as a note. You can even set a video as "caller's image" - a feature that is now becoming pretty common.
Messaging duly covered
Samsung S7220 Ultra b handles its messaging duties seamlessly. The SMS and MMS share an editor. You can covert your SMS to an MMS by simply inserting an image or other multimedia content.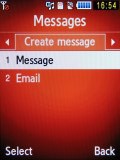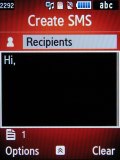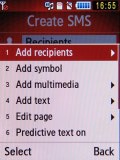 The SMS and MMS share an editor
There is also a counter at the bottom indicating the number of parts longer messages need to split to for sending.
There is room for 500 SMS, 30 push messages, 200 broadcast messages and 30 configuration messages in the phone's memory. As far as emails and MMS are concerned, they are not limited in number and storage depends on the free memory only. Incoming messages, like calls, can also be blocked based on a user-defined black list.
The email client is nice. It can manage up to five accounts - POP or IMAP; download is user-defined, opting between headers only and entire messages. Not only any files from the phone memory, but also business cards, calendar events, tasks or notes can be emailed as attachments. The client can be set up to check mail at a chosen interval (options vary from 30 minutes to 1 day).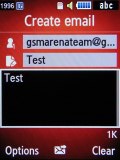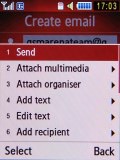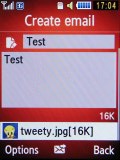 The user's emailing needs are well taken care of
File management is great
The Samsung S7220 Ultra b file browser can list all the folders from both the phone memory and the memory card together or one by one. There are folders for different types of files - images, video, music, sounds, which allow the handset to sort the memory contents. However, if you misplace some file the handset will still handle it.
The downside that the Samsung S8300 UltraTOUCH had isn't present on the Ultra b - the bar handset reads memory cards acceptably fast. And it handles 16GB cards alright.
Image gallery is passable
The Samsung Ultra b picture gallery is an inherent part of the file manager and not a separate application. The pictures are seen as a list with small thumbnail next to each filename. Sorting can be done by date, type, name, and size.
You can view a picture in portrait or landscape mode with the change between the two modes automatic with the built-in accelerometer. There is also the Samsung proprietary picture scrolling when in landscape by tilting the phone to its side. Mastering the timing and angle of this however is rather hard and can get annoying at time.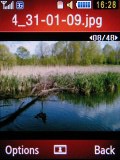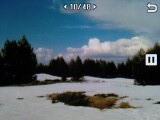 Portrait and landscape modes are available for the gallery
You can also zoom in on a picture to see greater detail though we must warn you that zooming in and out is irritatingly slow.
If you wish you can also edit your pictures using the integrated Image Editor - it's one of the most capable image editing applications for mobile phones. It allows you to apply a whole bunch of effects and adjustments.