Music player is good enough
The Samsung S7220 Ultra b music player is a pretty decent application that hasn't seen much change either. It allows filtering tracks by author, album, genre and composers. You can also choose to play either the tracks you've recently listened to, or the ones that you've played the most. If that doesn't seem enough, you can create your own custom playlists.
Various sound effects can be activated and there is a choice of three different visualizations, two of which include album art. They all look pretty nice but are hardly anything revolutionary.
Naturally, the music player can also be minimized to play in the background. It can than be controlled straight from the homescreen with the D-pad, in which case however the shortcuts applied to its four directions are no longer active.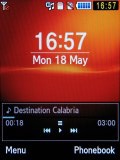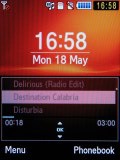 Controlling the music player from the homescreen
FM radio comes with RDS
The Samsung S7220 Ultra b comes complete with an FM radio, which is doing quite well in terms of user interface. It has the self-tune option to store all stations of clear reception at the moment. There is also RDS that can be switched on and off depending on your taste.
A nice feature, available on most recent mobile phones allows the handset to search for alternative frequencies of the same station to achieve better reception. This might be pretty useful when travelling.
Video player is OK
The video player has a simple interface without too many features. All the basic are covered though and considering that the screen size doesn't suppose the user to watch whole movies on it that should do the trick.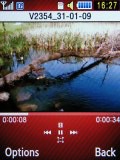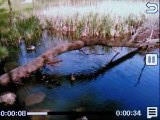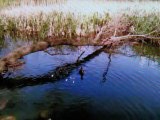 The video player offers landscape and fullscreen modes
The player supports MPEG-4 videos but only up to VGA resolution. The D1 sample we tried to play turned out to be unsupported. The video player can also use the accelerometer so once you flip the phone to its side it goes landscape and fullscreen.
An excellent camera
Samsung S7220 Ultra b is equipped with a 5 megapixel camera with a maximum resolution of 2560 x 1920 pixels. As it seems, photography was high on the Samsung 7220 R&D team priority list.
The camera interface very much resembles that of Samsung U900 Soul. It is decently user-friendly but still needs some time spent getting used to it. However, the available settings are quite a lot so we are willing to forgive the somewhat complicated menu.
Some of the more important settings are picture size, shooting mode (single shot, multi-shot, mosaic, and frame), effects (black and white, sepia, negative etc.), white balance and face detection. The face detection feature itself works relatively well but is not capable of recognizing several faces so you might have issues focusing on group shots. The smile shutter however which automatically takes photos when a smiling face appears.
The additional camera settings include wide dynamic range, anti-shake, picture quality and ISO settings. Exposure metering is also configurable and the auto focus can be switched off if necessary. Then there's also geo-tagging which allows you to record your current location in the photo's metatags thanks to the built-in GPS.
The picture quality of Samsung S7220 Ultra b is excellent, somewhat exceeding our expectations. The image processing is very mature with balanced in-camera sharpening and noise levels and achieves pretty good scene detail without making the photos a noisy mess. Samsung S7220 Ultra b also showed precise exposure metering decent color balance and very good edge-to-edge sharpness.









Samsung S7220 Ultra b camera samples
The activation of the wide dynamic range option brings in some detail in the shadow areas at the cost of somewhat increased noise. We are just not sure that the regular user will know when to switch it on plus it's inconveniently buried inside the camera advanced options and gets turned off every time you turn off the camera.
All the other most important camera controls such the Macro mode switch, the Flash switch or the Exposure compensation switch are always handy as they are assigned to the four ways of the D-pad.
As far as video recoding is concerned, Samsung S7220 Ultra b is pretty much a disappointment. The best it managed to pull out are QVGA videos at 15fps which is quite unimpressive by our books. There might be those rare occasions when the videos will turn up usable but usually they are best used for MMS purposes where filesize is quite limited.