More than meets the eye
Samsung S7220 Ultra b review: More than meets the eye

Connectivity is doing fine
With the Samsung S7220 Ultra b you can count on 3G with HSDPA support and GPRS for browsing internet on the go.
In addition to the network connectivity options, the Ultra b also supports USB and Bluetooth, both version 2.0. There is also A2DP onboard.
The phone works seamlessly when transferring data to and from PC. A notable enhancement to the Bluetooth File Browser service is the ability to make certain files or folders visible or invisible according to your needs.
The USB connection has PC Studio, Media player and Mass storage modes. Each of them can be set as default or otherwise the user will be prompted for action upon connection.
Browser is fine, but for the flash
The Web browser of Samsung S7220 Ultra b is pretty decent for the class which usually renders pages pretty well. There are some exceptions in which the Netfront browser struggles but those are hardly frequent enough to bother you. However if you don't stick to the default page size things are slightly different and rendering errors are way more frequent.
The browser offers landscape and fullscreen views and also some nice features like search-in-page, mini map and the virtual mouse pointer. If you browse elaborate pages, the desktop view mode is more appropriate, while for simple sites it's better to use the smart-fit view.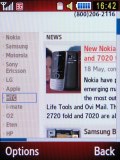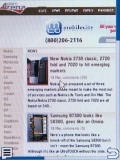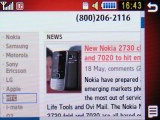 The browser offers fullscreen and landscape and decent page rendering
A pretty big disadvantage of the browser (although probably expected in this class) is the lack of proper Flash support. This means that the fans of Flash video and YouTube will have to go without checking the latest additions on the go - unless you opt for the mobile streaming version.
Organizer and applications
The Samsung S7220 Ultra b calendar offers three views - daily, weekly and monthly. There are five types of events available for setting up: appointment, anniversary, holiday, important and private. The Calendar can store up to 100 appointments, 50 anniversaries, 50 holidays, 20 important and 20 private events.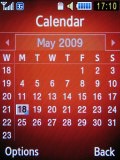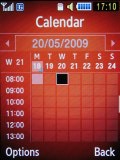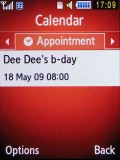 The calendar is pretty much unchanged
There are five alarm slots on Samsung S7220 Ultra b. Each of them can have its own snooze time, number of repetitions and activation days.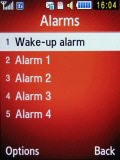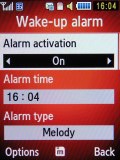 Setting up an alarm on the Ultra b
Among the other offerings are the voice memo recorder, a world clock application, a calculator, and a unit convertor. A countdown timer and a stopwatch will probably seem appealing to sports-minded users. There is also a handy to-do manager that can help you organize your time better.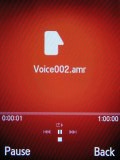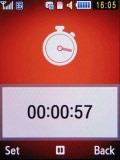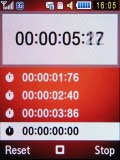 Some of the other organizer applications
The final application worth mentioning in the Ultra b is the integrated document viewer. It supports viewing MS Word, MS Excel and PDF files and handles them all pretty well. The application is very fast and generally a pleasure to work with. It has nothing to do with the scrolling and zooming of some other Samsung handsets that take ages on each step.