Messaging is good
Samsung S7330 has no problem handling any of the common types of messages: SMS, EMS, MMS, and email. The first three share an editor while the emails have one of their own. You can covert your SMS to EMS by adding formatting for example, while inserting an image or other multimedia content instantly turns it into an MMS.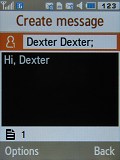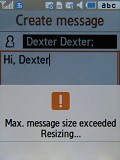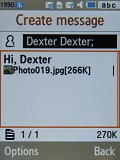 An SMS is automatically converted to an MMS once multimedia content is inserted
A rich T9 dictionary is at the user's disposal too. In case message sending fails, the message is automatically saved to the outbox, so you can try resending it later.
There is room for 500 SMS in the phone memory. As far as emails and MMS are concerned, they are not limited in number and storage depends on the free memory only. There are about 31 MB available, which should be enough if you keep most of your other stuff on the memory card. Incoming messages, and calls for that matter, can be blocked based on a user-defined black list.
The email client is very good. It can manage up to five POP or IMAP accounts. Email download is configurable, the options being headers only and entire messages. SSL protocol is also supported so you can bet there is no problem setting up an account that requires it (Gmail comes to mind).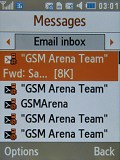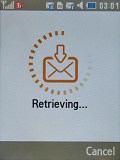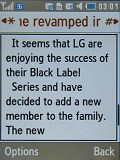 There is no problem whatsoever checking your email on Samsung S7330
Not only any files from the phone memory, but also business cards, calendar events, tasks or notes can be emailed as attachments. The client can be set up to check mail at a chosen interval (options vary from 30 minutes to 1 day).
As a whole, Samsung S7330 provides very decent messaging experience thanks to its good software support. We already shared our concerns with the keypad ergonomics. However most users will still be just fine with the S7330 messaging capabilities. After all a few seconds more to send a message isn't much of a pain, is it?
File management
Since the Samsung U900 Soul, the file browsers of the company handsets have been greatly improved. Therefore the fact that the S7330 uses the exact same application is good news for us. It lists all the folders from both the phone memory and the memory card together.
There are folders for different types of files - images, video, music, sounds, which allow the handset to sort the memory contents. However, misplaced files are still handled problem-free.
The functionality of the file browser is one of the best among non-smartphones. You can copy or move files - both one by one or in bulk, and you can create and delete new folders (save for the basic ones).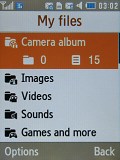 We do appreciate Samsung's non-smartphone file manager
Files can also be sent via Bluetooth one by one or multiple at once. Throughout the whole file manager, you can pick files you would like to lock to prevent accidental deletion. The whole file navigation thingy is really quick with no lags whatsoever.
Only if you insert a really large memory card and fill it with countless small files are you likely to get the S7330 to slow down. Listing thumbnails of the pictures stored in the respective folder on the memory card also happens very quickly.
Picture gallery
The picture gallery of the S7330 is an inherent part of the file manager and not a separate application. This isn't necessarily a fault, as launching it is still as simple as opening a folder that contains images. You can copy or move images to any folder of your liking, unlike some older Samsung handsets where only the Images folder was available for that purpose.
Pictures are displayed as a list with small thumbnail next to each filename. Sorting can be done by date, type, name, and size. Once you open a picture to view, you can scroll sideways to see the next images without having to return to the image list.
Pictures are normally viewed in portrait mode, but when fullscreen is applied the screen switches to landscape. Setting full-screen view is as simple as a simple tap on the touchpad confirmation centre.
Finally, you can also zoom in on a picture to see greater detail though we must warn you that zooming in and out is quite slow and irritating.
The Samsung S73300 has ShoZu integration, meaning you can upload images directly to ShoZu straight from the Image gallery.
If you wish you can also edit your pictures using the integrated Image Editor - it's one of the most capable image editing applications for mobile phones. It allows you to apply a whole bunch of effects and adjustments.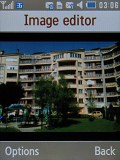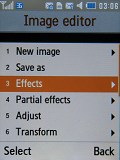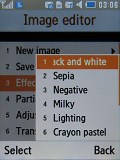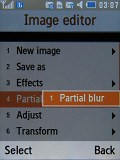 You can edit your images with the built-in editor
Transformations and crops, as well as insertion of various items, are also available. All in all, the Samsung S7330 offers you virtually all of the most popular editing capabilities you could possibly use on a cell phone. We really doubt it though that anyone is serious about editing images on a cell phone.