Organizer and applications
Samsung S7330 features a dedicated shortcut to organizer apps on its alphanumeric keypad. The calendar and alarms have their own slots in the main menu too. The S7330 calendar offers three views - daily, weekly and monthly. There are five types of events available for setting up: appointment, anniversary, holiday, important and private. Each of those has its own unique fields and an alarm to remind of.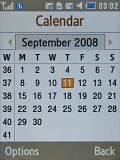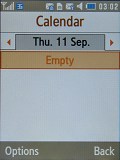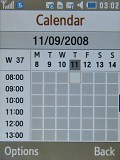 The available calendar view modes
The Calendar can store up to 100 appointments, 50 anniversaries, 50 holidays, 20 important and 20 private events. Much like with previous Samsung handsets, you can choose which calendar view should be default and you can pick the starting day of the week - the options are Monday or Sunday.
Among the available applications you will find a Google package which gives you direct access to Google Search and Gmail. There is also an RSS feed reader.
There are five alarm slots available on the Samsung S7330 and additional ones can be created if needed. Each of them can have its own snooze time, number of repetitions and activation days. The volume can also be different for each alarm and all but one of them (Wake-up) can be renamed to the user liking. Furthermore, you can set different tones for each of the alarms and you can choose whether it should trigger phone vibration.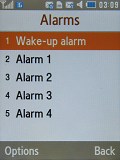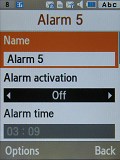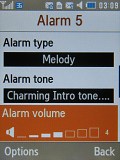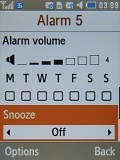 Setting up an alarm on Samsung S7330
Among the other offerings are the voice memo recorder, a world clock application, a calculator, and a unit convertor. A countdown timer and a stopwatch are also aboard. There is a handy to-do manager too.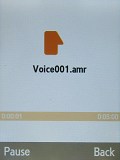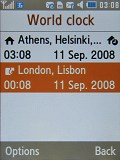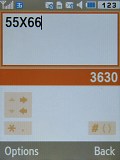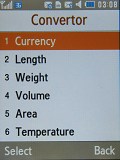 Voice recorder, world clock, calculator and convertor applications
The final application worth mentioning in Samsung S7330 is the integrated document viewer. It supports viewing MS Word, MS Excel, PowerPoint and PDF files and handles them all pretty well. The speed of zooming and panning is quite quick and there is also fullscreen mode available. There's no document editing, not in this price range.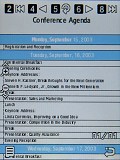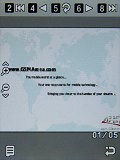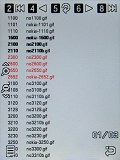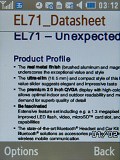 .doc .xls .ppt and .pdf files are easily handled by Samsung S7330
Games
The gaming department of Samsung S7330 is merely the launch pad to Samsung Fun Corner. All the offered titles are trials, full versions unlockable for an extra fee. Mobile content sales are the cash cow, like it or not.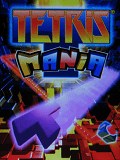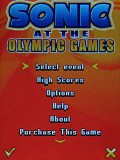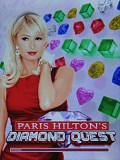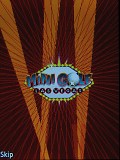 All of the available games are trial versions only
Final words
That's that on the down-market Soul, which does have the good and the bad of the original. The S7330 is in a lower price bracket than the U900 Soul but packs the same UI goodies, which is an achievement. However the low-key exterior shows its modest roots. Samsung S7330 is trimmed down in terms of imaging, but the trade-off is quad-band network support. The touchpad is the S7330 defining feature, but it just isn't everyone's cup of tea.
Anyway, we might as well be too picky here and the reason probably is the high bar set by the Soul. The S7330 was only very recently released and price has nowhere to go but down. And that may be the right push for Samsung S7330 to start climbing that lower league it's playing in.