Sliding into place
Samsung S7350 Ultra s review: Sliding into place

User interface: Flash by Samsung
Samsung S7350 Ultra s features the house's usual Flash user interface, which we already experienced with the S7220 Ultra b. The few notable differences include some nice visual accents like the animated backgrounds across the menu.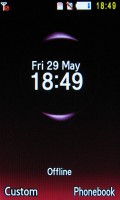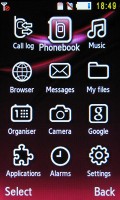 The user interface has perked up looks
The handy custom menu gets launched upon a press of the left soft key in standby. The custom menu allows you to pin any of the items in the interface submenus for easier access.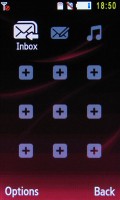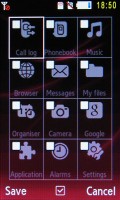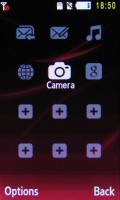 The custom menu is a convenient way of rearranging the main menu
The main menu is accessible on the standby screen by pressing the center of the D-pad. The right soft key is reserved for the phonebook. The four directions of the touchpad have shortcuts of their own and these can be changed as users see fit.
Samsung S7350 uses the animated traveler background with analogue clock we've known since the good old Samsung D900. It sets the standby screen background image according to the country where the phone is being used. The wallpaper is animated: birds are flying in the sky, clouds are moving etc. From 7 pm till 6 am night mood takes over: the sky turns dark, while houses get lit up.There is also another option for the wallpaper - you can select a number of photos that can run in slide show on the desktop. The transition effect can also be changed.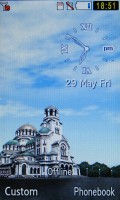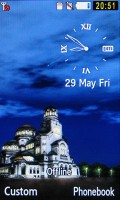 Animated traveler background - day and night mode
The main menu as usual displays a standard 4 x 3 grid of nicely animated icons. Submenus on the other hand appear as lists. All in all, if you happen to have used a Samsung feature phone in the past two years the Ultra s will hardly surprise you.
The S7350 Ultra s also uses the familiar task manager - the so called Application switch, which lets you quickly toggle between calling, texting, browsing and Java Apps. The Java apps section allows you to handle several Java titles simultaneously.
The not so comfy thing about the Application switch is that it can only be started with the camera key. There's a setting that allows you to use the camera key for the task switcher only, the camera or for both. The last options brings up a popup window every time you press the key.
Samsung S7350 has some nicely designed themes that go excellently with its design. There are three of them preinstalled and there's a nice little app on board that lets you create your own themes.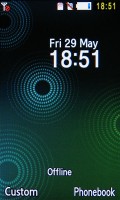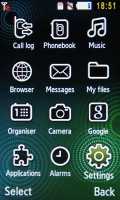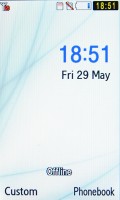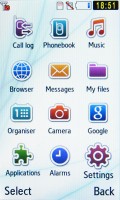 The two alternative themes available
The dialing display is also customizable by font type, size, color and background color - just as with every other Samsung handset recently.