Sliding into place
Samsung S7350 Ultra s review: Sliding into place

Image gallery: Samsung average
The Samsung Ultra s picture gallery is an inherent part of the file manager and not a separate application. The pictures are seen as a list with small thumbnail next to each filename. Sorting can be by date, type, name, and size.
You can view a picture in portrait or landscape mode, the switch between the two modes automatically handled by the built-in accelerometer. There is also the Samsung proprietary picture scrolling by tilting in landscape mode.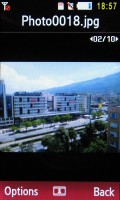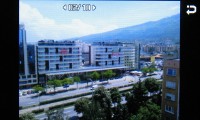 Portrait and landscape modes are available for the gallery
You can also zoom in on a picture to see greater detail though we must warn you that zooming in and out is irritatingly slow.
If you wish you can also edit your pictures using the integrated Image Editor - it's one of the most capable image editing applications for mobile phones. It allows you to apply a whole bunch of effects and adjustments.
Music player reporting for duty
The Samsung S7350 Ultra s music player is the familiar, and pretty decent, application that hasn't seen much change either. It allows filtering tracks by author, album, genre and composers. You can also choose to play either the tracks you've recently listened to, or the ones that you've played the most. If that doesn't seem enough, you can create your own custom playlists.
Various sound effects can be activated and there is a choice of three different visualizations, two of which include album art. They all look pretty nice but are hardly anything revolutionary.
Naturally, the music player can also be minimized to play in the background. It can then be controlled straight on the homescreen with the D-pad, in which case however the shortcuts applied to its four directions are no longer active.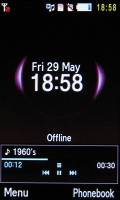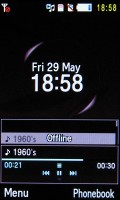 Controlling the music player on the homescreen
FM radio does the job
The Samsung S7350 Ultra s comes complete with an FM radio, which is doing quite well in terms of user interface. It has the self-tune option to store all stations of clear reception at the moment. There is also RDS that can be switched on and off depending on your taste.
A nice feature, available on most recent Samsung mobile phones (an available for ages on car stereos), allows the handset to search for alternative frequencies of the same station to achieve better reception. This might be pretty useful when travelling.
Almost perfect video player
The video player has a simple interface with not too many features. All the basics are covered though and even if the display size is hardly comparable to massive touchscreens, the Ultra slider does OK for video watching.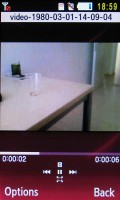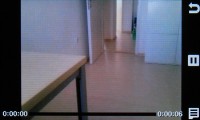 The video player offers landscape and fullscreen modes
The Samsung S7350 video player supports DivX and XviD codecs. It successfully played every DivX and XviD movie we threw at it with a resolution up to D1. Higher bitrates however may turn out to be a problem though.