Sliding into place
Samsung S7350 Ultra s review: Sliding into place

An excellent camera
Samsung S7350 Ultra s is equipped with a 5 megapixel camera for a maximum image resolution of 2560 x 1920 pixels. Surely a pivotal feature of this phone, the camera lives up to expectations with very high image quality.
The camera interface is identical to what the S7220 Ultra b had to offer. It is decently user-friendly, though not overly attractive. It still needs some time getting used to, however the available settings are quite a lot and most of them right at hand in the viewfinder.
Some of the more important settings are picture size, shooting mode (single shot, multi-shot, mosaic, and frame), color effects (black and white, sepia, negative etc.), white balance and face detection.
The face detection feature itself works relatively well but is not capable of recognizing several faces at a time so you might have issues focusing on group shots. The smile shutter however seems to work fine, automatically taking the shot as soon as a smiling face appears.
The extra camera features include wide dynamic range, anti-shake, picture quality and ISO settings. Exposure metering is also configurable and the auto focus can be switched off if necessary. Then, there's also geotagging to record your current location in the photo's metatags thanks to the built-in GPS.
The picture quality of Samsung S7350 Ultra s is excellent, definitely meeting the high expectations set by the S7220 Ultra b. Internal image processing is very mature with nice scene detail.
Sharpening sometimes can be too evident on high-contrast edges and noise reduction traces can be regularly found in the shadows.
Samsung S7350 Ultra s also showed precise exposure metering, great color rendering and very good edge-to-edge sharpness.







Samsung S7350 Ultra s camera samples
The Wide Dynamic Range setting manages to bring some detail in the darker areas but it's a trade-off really, as the noise gets somewhat higher. WDR is one of the few options buried in the settings menu and it gets turned off each time you switch the camera off, which means that all too often you're likely to forget to turn it back on.
The other important camera controls such as Macro mode, Flash control or Exposure compensation are always handy as they are assigned to the four ways of the D-pad.
Video recording is exciting on paper though real life results would disagree. While the S7350 Ultra s produces smooth D1 video at 30 fps, the level of detail is very low. The videos look almost like they've been upscaled from a lower resolution.
There are fast and slow motion video modes as well. It is worth noting that the fast-motion (time-lapse) videos are captured in D1 resolution (the S8300 only does VGA), but the low level of detail is a disappointment. Slow motion videos are limited to QVGA and, as usual, the quality is low.
Here is a sample D1 video (4.4MB) captured by the S7350 Ultra s.
Connectivity is sufficient
With the Samsung S7350 Ultra s you can count on 3G with dual-band HSDPA support and worldwide GSM/GPRS/EDGE for browsing internet on the go. Like its sibling, the S7220 Ultra b, it doesn't offer Wi-Fi.
As far as USB and Bluetooth go, both are supported at version 2.0 and there is A2DP onboard. A notable enhancement to the Bluetooth File Browser service is the ability to make certain files or folders visible or invisible according to your needs.
The USB connection has PC Studio, Media player and Mass storage modes. Each of them can be set as default or otherwise the user will be prompted for action upon connection. Mass storage mode allows access to the memory card only and the phone cannot be used for calling and data while the connection is active.
A good browser, no Flash though
The web browser of Samsung S7350 Ultra s is pretty decent for the class and usually renders pages pretty well. There are some exceptions in which the Netfront browser struggles but those are hardly frequent enough to bother you. However if you don't stick to the default page size things are slightly different and rendering errors are way more likely.
The browser offers landscape and fullscreen views and also some nice features like search-in-page and mini map. If you browse elaborate pages, the desktop view mode is more appropriate, while for simple sites it's better to use the Smart-Fit view.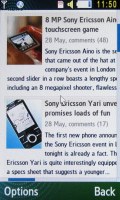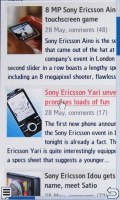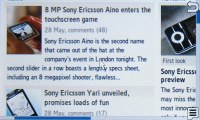 The browser offers fullscreen and landscape view and decent page rendering
The browser can also save pictures or entire web pages and searching for text on a page is also possible. There's a virtual pointer option, which provides a bit of familiarity, but its usability is not as good as on a touch operated browser.
The biggest handicap of the browser (although probably expected in this range) is the lack of proper Flash support. This means that the fans of Flash video and YouTube will have to go without checking the latest additions on the go - unless they opt for the mobile streaming version.