Calling Captain Planet
Samsung S7550 Blue Earth review: Calling Captain Planet

Phonebook doing fine
The Samsung S7550 Blue Earth comes with a phonebook that can store up to 2000 contacts with multiple fields. You can assign a photo to each contact, or even a video if you so wish. You can view contacts in the phone memory, the SIM card, or both.
The Blue Earth offers three different search patterns for the phonebook. The first is the traditional search by typing a part of the contact's name. It doesn't work all that well with the virtual keyboards however. You have one extra click to open the text box to type and only after you tap 'Done' do you get to see the search results.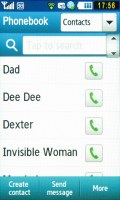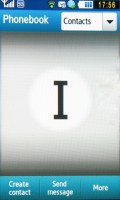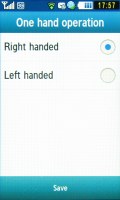 Samsung Blue Earth's phonebook
So, we ended up using the alphabetic scroll most of the time. Quite nicely, Samsung have provided the option to place the scroll bar on either side of the screen to facilitate single-hand usage for both left and right-handed users.
Finally, the kinetic scrolling is also available in the search but it's not quite as convenient in longer contact lists.
The phonebook doesn't display the contact photos and offers only a Call button, unlike the Jet, which also had a Send Message button. Still, there's a good reason to assign photos to the contacts aside from Caller ID. It's called Photo contacts and we'll take a look at it in the next section.
When editing a contact there are first and last name fields along with a field for the display name. So you can have a contact appear by his nickname while still keeping the contact's full name on record.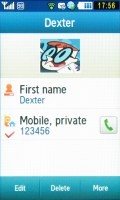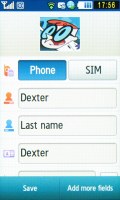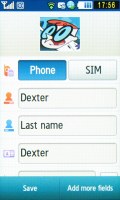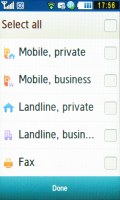 Editing Dee Dee's contact info
Another useful feature to avoid duplicate entries is that the phone will display a warning if the number for the new contact you just entered is already in the phonebook.
Photo contacts shows off your contacts' photos
The Photo contacts app in the Samsung S7550 Blue Earth keeps tabs on the contacts you talk to most often. It displays an arc of photos (the contacts' photos) with a name and number next to them. The contacts are sorted in order of most recently called and tapping a contact brings up buttons to call, video call, send a message to or delete a contact.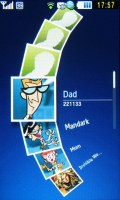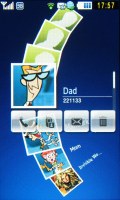 With Photo contacts you can use faces instead of names for browsing your contacts
Telephony
The Samsung S7550 Blue Earth is more than just a phone but the added features do not come at the expense of its main job - making calls. Reception was strong with excellent voice quality during calls.
The dialer gets activated through its shortcut on the homescreen or from the main menu. You can proceed to dial just like you would on any other phone. Unfortunately the smart dial feature works with numbers only, instead of names, which makes it pretty useless. When you punch in some digits, the contacts whose numbers contain them pop up but we doubt it anyone really remembers just a part of a contact's number.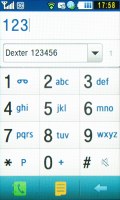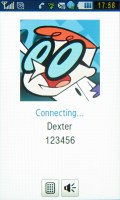 The dialer on the Blue Earth is too simple • Calling Dexter on the Samsung Blue Earth
As with most recent Samsungs, the Blue Earth phone has a nice accelerometer-based telephony feature. It allows you to mute the ringtone of an incoming call (or ringing alarm) by turning it face down. The other call-related trick from the Samsung Jet - Speaker Call - is missing. It automatically activated the speakerphone when you placed the phone on a level surface.
Samsung S7550 Blue Earth doesn't have a proximity sensor to automatically turns off the display when you hold it next to your ear, so instead it just locks the screen - if you need to access something while on a call, you need to unlock it first.
New events like missed calls or incoming messages show up on the homescreen as a widget. It has three tabs each signaling a different type of event. It also displays the sender's number and the time of the call or text.
Finally the Samsung Blue Earth comes complete with a reject list option that allows you to selectively block numbers you don't want to receive calls or messages from.
As for the loudspeaker performance, here is how the S7550 ranks alongside some of the other devices we've measured. You can find more details about the test itself, as well as the full list of tested devices here.
| | | | | |
| --- | --- | --- | --- | --- |
| Speakerphone test | Voice, dB | Pink noise/ Music, dB | Ringing phone, dB | Overall score |
| Apple iPhone 3G | 66.1 | 62.1 | 71.7 | Below Average |
| Nokia 5800 XpressMusic | 75.7 | 66.5 | 68.5 | Good |
| Samsung S7550 Blue Earth | 75.7 | 66.5 | 76.0 | Good |
| LG KF700 | 72.8 | 71.7 | 79.2 | Very Good |
| LG KP500 Cookie | 78.1 | 75.7 | 82.7 | Excellent |
| Samsung S5230 Star | 77.1 | 75.7 | 82.0 | Excellent |
Messaging needs automatic setting detection
The Samsung S7550 Blue Earth messaging department is an exact copy of what we saw on the Samsung S8000 Jet. The handset has a shared editor for SMS and MMS and a separate one for emails.
The SMS and MMS editor is the familiar intuitive application which allows you to add the recipient from your phonebook, from your recent contacts or punch it in manually. You can also add a whole group in the recipient field for mass messages, instead of adding contacts one by one.
The messages can be broken down into up to 15 chunks for sending if you exceed their maximum character limit (standard 160).
A nice green feature allows you to add an Eco day to your message. It inserts a text template containing the date and a short background of the selected green day. Quite handy if you want to tell all your contact what they should be celebrating today.
Email support is also duly covered. There's a Gmail icon in the Google menu but all it does is open the gmail.com webpage in your browser. You might as well use it if you prefer web-based access but the native email client seems the far better option to us.
The greatest problem we had with it is that it didn't automatically detect the settings for Gmail so we had to enter them manually, but once that's done, handling email is a breeze. Still most other brands are already providing some automatic configurations for the email clients on their handsets and maybe it's about time Samsung did something about it.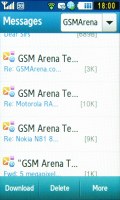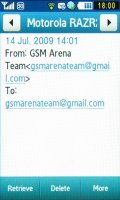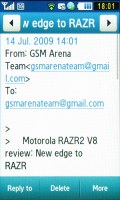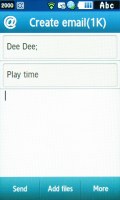 The email client could not configure out mailbox settings automatically
The email download limit is 5MB, enough for receiving most types of files. If you receive an office document as an attachment, you will be able to view it as well.
As for text input, the Samsung S7550 Blue Earth has support for typing on a customary (albeit virtual) 3 x 4 alphanumeric keypad. Unfortunately, the unit we used for this review did not come with the finalized software and the QWERTY keyboard didn't work.