Calling Captain Planet
Samsung S7550 Blue Earth review: Calling Captain Planet

File browser browses with the best of them
True to its pedigree, the Samsung S7550 Blue Earth is equipped with one of the most elaborate file managers you can find on a feature phone. It can display the files and folders on the phone memory or the memory card, and even both at once with matching folders nicely brought together. The phone uses predefined photos to keep media organized, but you're free to use your own folders as well.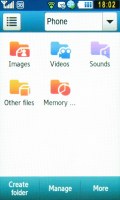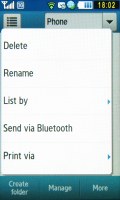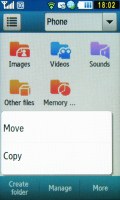 There's nothing to complain about the file browser
You can copy, move files or send them over Bluetooth - both one by one or in bulk, and you can create and delete new folders (except the default folders, like Images, Sounds and so on).
The Samsung S7550 handles memory cards very well, and even initialization and reading of a 16GB card doesn't take too long.
Gallery and Photo browser can do one-finger zoom
Like its more imaging-savvy siblings, the S7550 Blue Earth has two different picture galleries. They are both optimized for touch operation and are very user-friendly.
The first gallery is an inherent part of the file manager and accessing it is as simple as opening any folder that contains images. It allows sorting your images by date, type, name, and size.
The gallery offers grid and list layouts but no zig-zag view like in the Jet. The zig-zag view was the more visually elaborate one, but this gallery serves a more organizational purpose - for a proper viewing experience, head to the Photo browser.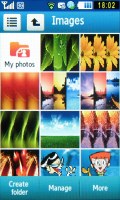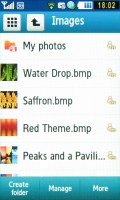 The file browser pretends it's a photo gallery
Going through photos is quite fast with the S7550, we're delighted with the image browsing speed. Once you open an individual image, you can sweep you fingers across the screen to see the next images without having to return to the image list. Alternating portrait and landscape modes is automatic thanks to the built-in accelerometer.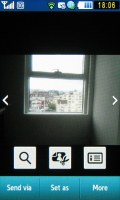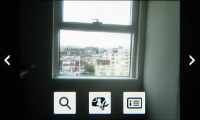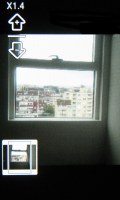 Alternating portrait and landscape modes is automatic • one-finger zooming
Samsung have also implemented the so-called one-finger zooming, which compensates for the lack of multitouch functionality, though some might say it's a better way to zoom altogether. Zooming is extra simple and takes only a single move of your thumb - you just need to hold it on the screen for a second and then drag up or down for zooming in or out. This method works in both galleries (as well as the web browser).
The alternative to the picture gallery is the Photo browser. Photos can be arranged by date (the default setting), by file name or the more intriguing option "by color".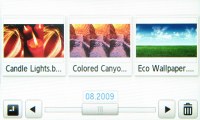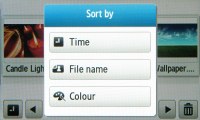 The Photo browser app can scroll using gravity
As usual the two galleries also have another Samsung proprietary accelerometer-based feature. It lets you browse pictures in fullscreen landscape mode by simply tilting your phone up and down.
Music player does a bang up job
The music player of the Samsung S7550 Blue Earth is exactly the same as in the S5230 and hasn't been much altered from the M8800 Pixon.
It allows filtering tracks by author, album, and genre. Automatic playlists (recently added, most played etc.) are also generated and can subsequently be used as filters. If that doesn't seem enough, you can create your own custom playlists. The music player can naturally be minimized to play in the background.
The music player also has a dedicated widget, allowing quick access to the full version of the application with only a single tap. You can also start, stop and alternate tracks straight from the home screen if you prefer.
The equalizer offers the standard presets like pop, jazz, classic, etc. but it also packs three extra options - widening, dynamic and surround effects. It doesn't offer custom presets though.
Last, but certainly not least, the player is nicely touch-optimized to include fast forward and rewind, just like on the S5230. This adds up to an excellent music application that can fully replace your portable MP3 player.
FM radio with RDS
The Samsung S7550 Blue Earth also features an FM radio with RDS, which offers intuitive controls. It can be opened from the main menu or for more immediate access you can use the Radio widget on the home screen.
Tapping on it brings up the radio or you can just use the widget's controls to start/stop the radio or change the station. It can only skip between saved stations though, and if you want to search you'll have to do it in the actual app.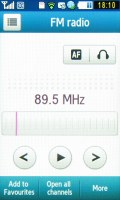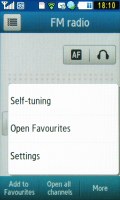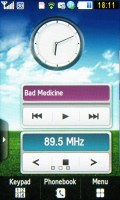 The FM radio application • the radio player widget
Speaking of stations, you can save stations but they are labeled just by their frequency and you can't rename them. There's a separate list for your favorite stations though. Find Music doesn't work with the radio and radio recording is also missing.
Decent audio quality
The audio output of the Samsung S7550 Blue Earth is good, albeit hardly spectacular. There are no deal-breakers anywhere in its performance but it didn't manage to achieve any records either.
The noise level and dynamic range readings are excellent even at this stage, while the stereo crosstalk is passable at least. The distortion levels are slightly higher than those of some competitors but there's nothing too disturbing about them.
Finally the frequency response is really good, save for the cut-off extreme bass frequencies. It might simply be a move to conceal the potential weaknesses of under-par headsets.
Here goes the table and the graph so you can see for yourselves.
| | | | | | | |
| --- | --- | --- | --- | --- | --- | --- |
| Test | Frequency response | Noise level | Dynamic range | THD | IMD + Noise | Stereo crosstalk |
| Samsung S7550 Blue Earth | +0.20, -2.62 | -84.4 | 84.4 | 0.281 | 0.181 | -75.1 |
| Nokia 5530 XpressMusic | +0.11, -0.84 | -90.9 | 90.8 | 0.010 | 0.454 | -90.6 |
| Nokia 5800 XpressMusic | +0.09, -0.77 | -92.2 | 92.1 | 0.013 | 0.297 | -75.0 |
| Samsung S5230 Star | +1.02, -2.41 | -88.0 | 87.8 | 0.0045 | 0.222 | -82.3 |
| LG KP500 Cookie | +0.13, -0.32 | -87.5 | 81.9 | 0.125 | 0.150 | -63.0 |
| Apple iPhone 3GS | +0.01, -0.05 | -92.1 | 92.1 | 0.0035 | 0.011 | -95.0 |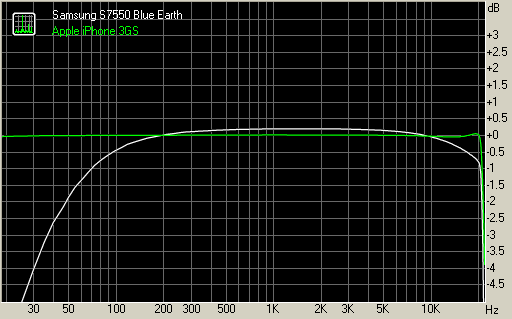 Samsung S7550 Blue Earth vs Apple iPhone 3GS frequency response graphs
You can learn more about the whole testing process here.