Calling Captain Planet
Samsung S7550 Blue Earth review: Calling Captain Planet

Organizer and apps are sociable and eco-friendly
The Samsung S7550 Blue Earth has the typical time-management applications - Calendar, alarms, to-do list, memo application. Tools like a calculator, world time application, countdown timer and stopwatch are included, as well as a voice recorder and unit converter. The calendar is mostly unchanged, except for the addition of several permanent events - the Eco day list. It's a list of eco holidays, which show up as events in the calendar.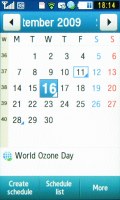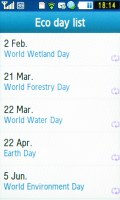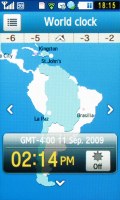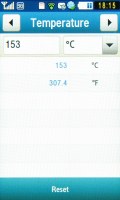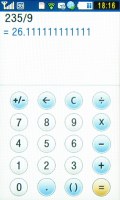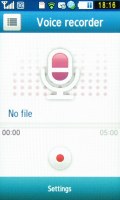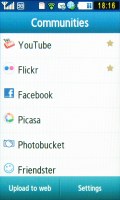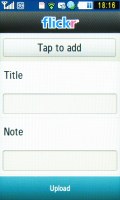 The organizer holds no surprises
There's also an RSS reader and an application caller "Communities". It helps you upload data to content sharing sites like YouTube, Flickr, Facebook, MySpace, Picasa and a few others. It will automatically resize images and has a handy account manager.
The other apps are familiar enough, so we won't go into details. Just remember that there are widgets that do some of those tasks as well.
Finally, the Samsung S7550 comes with an office document viewer that supports Word, Excel, Powerpoint and PDF files. It's an application developed by Access and is one of the nicest additions to the software package.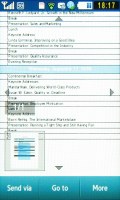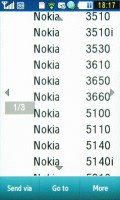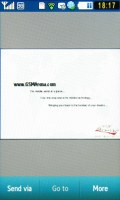 Samsung Blue Earth has no problems handling office documents
The documents viewer is quick enough when opening files; however, panning is rather slow. The document viewer also works in landscape mode (rotating the screen automatically), which makes reading a little easier. The excellent one-finger zoom is a great addition here and is much more comfortable than the default.
The corporate types among you will be happy to know there's Exchange ActiveSync support.
The Eco walk application is part of the eco-image of the phone. It's a step counter with a green twist - when you input some info about yourself, it will calculate how many calories you've burned, how much CO2 would have gone into the atmosphere if you drove a car instead of walked and how many trees you've saved by choosing to walk.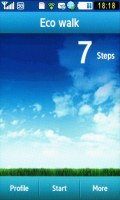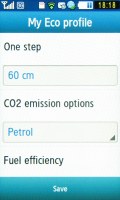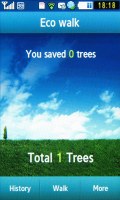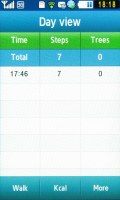 The Eco walk app keeps a scoreboard
The app keeps a history of all your eco-walks displaying the number of steps for each and one of the other statistics. This turns it into a sort of game appealing to your competitive spirit to try to beat your previous "high score". Of course, there's a complementary widget, which makes starting eco-walks easier.
Proper GPS software missed
So, the Samsung Blue Earth has built-in GPS receiver with A-GPS, which puts it up there with high-end phones but all you're getting from it is geo-tagging and what you can coax out of Google Maps. So much for our dreams of solar-powered satellite navigation in case we ever went off-roading.
Game department is rather poor
Typical of Samsung recently, the S7550 offers plenty of games but just one is a full version, the others are trials. The full game is called Party Island, which is more like a game and a half since it includes a demo version of the Party Island game. Leaving the demo aside, in Bubble Popper, as the name suggests, you have to pop all bubbles before they reach you. The title doesn't make it sound very tempting but if you have time to kill, it's an enjoyable way to do it.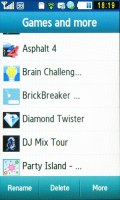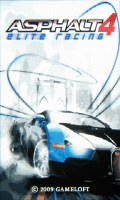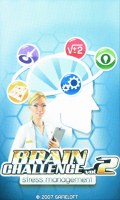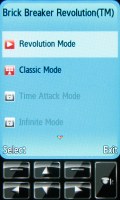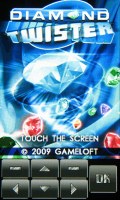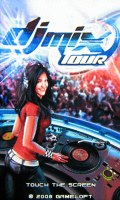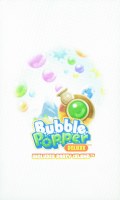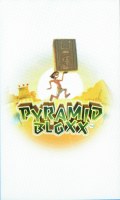 The games that come with the Samsung Blue Earth
The trials include well-known titles from other Samsung phones. Here's the list: Asphalt 4 (a racing game), Brain Challenge (several puzzles), BrickBreaker (BreakOut clone), Diamond Twister (think Jawbreaker on WinMo), DJ Mix Tour (rhythm game like Guitar Hero for DJ's) and finally PyramidBloxx. Some of the games rely on a virtual D-pad, which isn't very comfortable.