Gone fishing
Samsung Galaxy Xcover 2 review: Gone fishing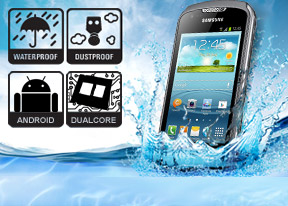 Design and build quality (contd.)
The 5 megapixel camera lens is on the back, a single LED flash and the loudspeaker grill at its sides. The camera lens is slightly recessed, but it still might get damaged if it hits an edge.



The 5 megapixel camera is the star backstage
Underneath the rear cover and the battery itself are the miniSIM and microSD card slots. The battery is a 1,700mAh unit - we would have fancied a larger capacity, but our tests show that even this one does a reasonable job.
We ran our array of battery tests on the Samsung Galaxy Xcover and gave it an endurance rating of 48 hours. In the individual categories, it lasted just over 10 hours when calling on a 3G network, a bit over 6 and a half hours of web browsing over Wi-Fi and 7 and a half hours for video.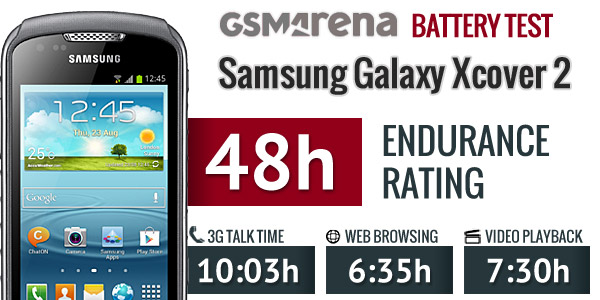 You can get more details about the Xcover 2's battery performance at our blog and find out more details on how we test the phone's battery life over here.
The rounded corners make the phone comfortable to hold and we already mentioned the grip-enhancing patterned back and ribbed sides. It's not a small device by any means, nor is it lightweight, but you should have no problems pocketing the phone (especially if you're wearing a comfy pair of pants).
It's not something we'd strap on an arm band and go running though, so wireless headphones are a good idea if you want to listen to music while you jog. A wired headset is also an option, if you don't mind the wires sticking out of your pocket.



Samsung Galaxy Xcover 2 in the hand
Display
The Samsung Galaxy Xcover 2 has a 4" LCD screen of WVGA resolution. That gives it a reasonable pixel density of 233ppi (the Galaxy S II and S II Plus have 216ppi). The glass covering the screen is scratch resistant but not Gorilla Glass.


Samsung Galaxy Xcover 2 has a 4" WVGA screen
We also snapped a photo of the display with our digital microscope. It shows a standard LCD RGB matrix.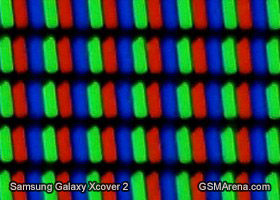 The screen has good viewing angles - colors are unaffected, while contrast suffers only at extreme angles. Unfortunately, neither colors, nor contrast are particularly good on this screen to start with. Colors aren't very saturated, which further brings down the image quality.
Display test
50% brightness
100% brightness
Black, cd/m2
White, cd/m2
Contrast ratio
Black, cd/m2
White, cd/m2
Contrast ratio
Samsung I8730 Galaxy Express
0
201
∞
0
364
∞
HTC Butterfly
0.14
173
1200
0.45
501
1104
Sony Xperia Z
-
-
-
0.70
492
705
Sony Xperia go
0.30
282
928
0.63
541
859
Samsung Galaxy Xcover 2
0.22
212
981
0.49
439
898
Samsung I9300 Galaxy S III
0
174
∞
0
330
∞
Nokia Lumia 920
-
-
-
0.48
513
1065
Apple iPhone 5
0.13
200
1490
0.48
640
1320
Nexus 4
0.22
314
1447
0.45
608
1341
HTC One X
0.15
200
1375
0.39
550
1410
The screen is very reflective, which is a problem for outdoor use. Indoors, the contrast is not bad actually, but bright light has a negative impact on the sunlight legibility.
Sunlight contrast ratio
Nokia 808 PureView
4.698
Samsung I9300 Galaxy S III
3.419
Samsung Omnia W
3.301
Samsung Galaxy S
3.155
Nokia N9
3.069
Samsung Galaxy Note
2.970
HTC One S
2.901
Samsung Galaxy Express
2.861
Samsung Galaxy S II
2.832
Samsung Galaxy S II Plus
2.801
Huawei Ascend P1
2.655
Nokia Lumia 900
2.562
Sony Xperia Z
2.462
Samsung Galaxy S III mini
2.422
Motorola RAZR i
2.366
Apple iPhone 4S
2.269
HTC One X
2.158
Nokia N8
2.144
Oppo Find 5
2.088
BlackBerry Z10
2.051
Apple iPhone 4
2.016
Sony Ericsson Xperia ray
1.955
Samsung Galaxy Camera
1.938
HTC Butterfly
1.873
Sony Xperia V
1.792
Sony Xperia U
1.758
LG Optimus 4X HD
1.691
HTC One V
1.685
LG Optimus Vu
1.680
HTC Desire V
1.646
Samsung Galaxy Xcover 2
1.632
LG Optimus 3D
1.542
Nokia Asha 302
1.537
Nokia Lumia 610
1.432
Gigabyte GSmart G1355
1.361
HTC Desire C
1.300
LG Optimus L7
1.269
LG Optimus L9
1.227
Meizu MX
1.221
Sony Xperia E dual
1.203
Samsung Galaxy Pocket
1.180
Sony Xperia tipo
1.166
Samsung Galaxy mini 2
1.114