Gone fishing
Samsung Galaxy Xcover 2 review: Gone fishing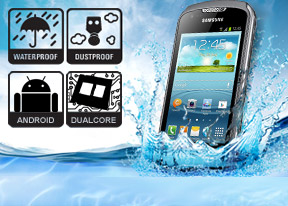 Synthetic benchmarks
The Samsung Galaxy Xcover 2 packs roughly double the processing power of its predecessor with a dual-core 1GHz processor (Cortex-A9 cores), 1GB of RAM and Mali-400MP GPU. It also enjoys the benefits of running Jelly Bean with Google's optimizations to the graphical stack.
We already know that Cortex-A9 isn't the speediest processor core, especially at just 1GHz. It's no match for Krait-based designs, but it can still effectively compete against phones in its price bracket.
Compound benchmarks like AnTuTu and Quadrant put it in the lower mid-range, which is what we expected.
Benchmark Pi
Lower is better
Sony Xperia V
279
Samsung Galaxy Express
346
Samsung Galaxy S II Plus
409
Samsung Galaxy S III mini
499
Samsung Galaxy Xcover 2
552
HTC Desire X
639
AnTuTu
Higher is better
HTC One
22678
Sony Xperia Z
20794
Samsung Galaxy S III
15547
Oppo Find 5
15167
HTC Butterfly
12631
Samsung Galaxy Xcover 2
6650
Quadrant
Higher is better
Sony Xperia V
5816
Samsung Galaxy Express
4998
Samsung Galaxy S II Plus
3542
Samsung Galaxy Xcover 2
3045
Samsung Galaxy Nexus
2316
Mali-400MP is usually good enough for WVGA resolutions and both NenaMark 2 and Epic Citadel show framerates of over 30fps (both render at screen resolution). Epic Citadel in particular is based on the Unreal Engine 3 (Unreal engines are fairly popular among phone game devs) and it shows the real-world performance to be expected of the Galaxy Xcover 2.
GLBenchmark 2.1 and 2.5 run the tests off-screen (at 720p and 1080p resolutions respectively) so the physical screen resolution doesn't matter and we can compare raw GPU power. The Xcover 2 doesn't do too well here, but with a WVGA screen it won't have any problems (unless someone makes a game that's more resource-heavy than Epic Citadel, but we think that's unlikely in the near future).
NenaMark 2
Higher is better
Samsung Galaxy Premier
55.3
Samsung Galaxy S III mini
38.9
Samsung Galaxy Xcover 2
38.7
HTC Desire X
35.4
Samsung Galaxy Nexus
28.7
Epic Citadel
Higher is better
Sony Xperia Z
55.6
Nexus 4
53.9
LG Optimus G
52.6
Samsung Galaxy S III
41.3
Oppo Find 5
38.6
Samsung Galaxy Xcover 2
36.4
GLBenchmark 2.1 Egypt (720p offscreen)
Higher is better
LG Optimus G
113
Sony Xperia U
19.6
Samsung Galaxy Ace 2
16.3
Samsung Galaxy S III mini
16
Samsung Galaxy S III mini
16
GLBenchmark 2.5 Egypt (1080p offscreen)
Higher is better
Apple iPhone 5
27
Nexus 4
26
Samsung Galaxy S II
13
Samsung Galaxy Express
12
Samsung Galaxy S II Plus
11
HTC One X
9
Samsung Galaxy Xcover 2
6.2
The Galaxy Xcover 2 is close to a Chrome-running Galaxy Nexus in terms of JavaScript performance and close to a Galaxy S II Plus in HTML5 performance. Overall, the Xcover 2 will handle web pages comfortably for some time to come.
SunSpider
Lower is better
Sony Xperia V
1189
Samsung Galaxy S II Plus
1460
Samsung Galaxy Express
1654
Samsung Galaxy Nexus
1863
Samsung Galaxy Xcover 2
1901
HTC Desire X
2259
BrowserMark 2
Higher is better
Sony Xperia V
1957
Samsung Galaxy Express
1154
Samsung Galaxy S II Plus
1079
Samsung Galaxy Xcover 2
1036
Samsung Galaxy S III mini
714