This article is outdated. We have already published a full review.
Music player is really cool
Along with the standard 3.5 mm audio jack and the microSD card slot, the S8000 Jet music functionality is complemented by the great music player usually found on Samsung devices.
The music player allows filtering tracks by author, album, and genre. Automatic playlists (recently added, most played etc.) are also generated and can subsequently be used as filters. If that doesn't seem enough, you can create your own custom playlists. The music player can naturally be minimized to play in the background.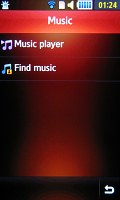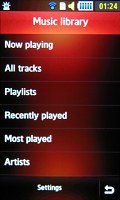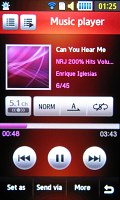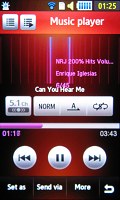 The music player is up to scratch
The music player also has a dedicated widget, allowing quick access to the full version of the application with a single tap. You can also start, stop and skip tracks direct on the home screen.
The equalizer offers the standard presets like pop, jazz, classic, etc. but it also packs three options thanks to the DNSe sound chip - widening, dynamic and surround effects. There is also a virtual 5.1 Dolby enhancement which can only be applied when headphones are plugged in.
Continuing our trip down the road, the three different visualizations are a nice touch to the music player and the album browser seems to take after Apple's Cover Flow, something we strongly approve of.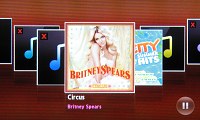 Spiced with a pinch of cover flow
Last, but certainly not least, the player is nicely touch-optimized for fast forward and rewind, just like the Samsung S5600 and S5230. This adds up to an excellent music application that can fully replace your portable MP3 player.
Gallery
The Samsung S8000 Jet has two different picture galleries. Both of them are optimized for touch operation and are very user-friendly.
The first is an inherent part of the file manager and accessing it is as simple as opening any folder that contains images. It allows sorting your images by date, type, name, and size.
Once you open a picture to view, you can sweep you fingers across the screen to see the next images without having to return to the image list. Alternating portrait and landscape modes is automatic thanks to the built-in accelerometer. You can also zoom in on a picture to see greater detail.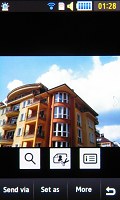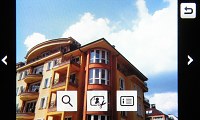 The traditional gallery is nice and simple
The alternative to the picture gallery is the Photo browser. It has its dedicated icon in the main menu and is the quickest way of accessing you images. It allows sorting your images by time taken, name or color. That last option is pretty funny but not exactly useful as it orders images according to the most dominant color in them.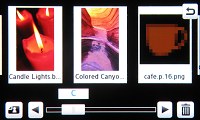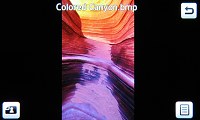 The Photo browser is also present
As usual,the two galleries also have another Samsung proprietary accelerometer-based feature. It lets you browse pictures in fullscreen landscape mode by simply tilting your phone to its sides.
Tilt scrolling is fun to begin with. But after a while it gets annoying: you have to be careful not to tilt the handset too much since the slant determines scrolling speed and you can easily miss an image or two.