This article is outdated. We have already published a full review.
A promising 5-megapixel sharpshooter
The second Samsung S8500 Wave unit we accommodate at our office turned out a pre-marketing sample as well. However, this one has an operational camera along with the previously missing camera key.
The Samsung S8500 Wave is capable of taking 5 megapixel photos and capturing 720p videos.
The S8500 camera viewfinder is quite reminiscent of company's recent cameraphones. The comfortable interface is nicely touch-optimized and has all you need on the two vertical bars on each side of the viewfinder.
The basic options are here - ISO, white balance, default storage, stabilizer, face and blink detection, geo-tagging etc. You can switch the default storage between the main memory, the built-in 2 or 8 gigs flash storage and the microSD card.
The Wave produces splendid photos (for a 5-megapixel shooter). The amount of resolved detail is good even at this early stage and even noise levels are kept under control. Only the colors could be a tad more vibrant. Here go the Samsung S8500 Wave samples.
Synthetic resolution
We also snapped our resolution chart with the Samsung S8500 Wave. You can check out what that test is all about here.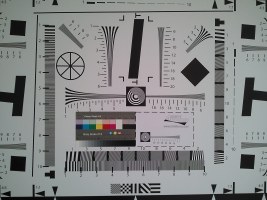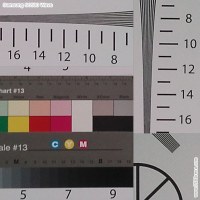 Samsung S8500 Wave resolution chart photo • 100% crops
Video recording
The Wave captures 720p videos. Like the Sony Ericsson Vivaz, the S8500 Wave features continuous autofocus during video recording, which allows it to act just like a dedicated video camera.
Samsung are still mum on the video frame rate. Our unit outputs videos at 30fps but under closer inspection of those, there seemed to be only 24 unique frames while the 6 other were duplicates.
But having a steady 24fps is actually a good thing as it provides for a relatively smooth playback. After all, big screen movies are all shot as 24 fps. The Samsung Omnia HD was also trying out for a 24fps output but it hardly reached that with its videos running around 20-22 fps.
But enough talking, here's a video sample made by the Samsung S8500 Wave.
You can also check these two video samples that we shot at the MWC.
And here's a second camcorder sample, this time shot outdoors: