Good 5-megapixel snapper, great video recorder
The Samsung S8500 Wave is capable of taking 5 megapixel photos and capturing 720p videos.
The S8500 camera viewfinder is quite reminiscent of company's recent cameraphones. The comfortable interface is nicely touch-optimized and has all you need on the two vertical bars on each side of the viewfinder.
All the bases are covered - ISO, white balance, default storage, stabilizer, face and blink detection, geo-tagging etc. You can switch the default storage between the main memory and the microSD card.
If you want to use the touch focus feature, you need to double tap on the area you wish to focus on and then use the camera key to take a picture.
The Wave produces nice photos for a 5-megapixel cameraphone. The amount of resolved detail is very good and noise levels are kept under reasonable control. Sometimes the contrast seems a bit low, but most of the images are good enough. Here go the Samsung S8500 Wave samples.
Photo quality comparison
We've also added the Samsung S8500 Wave to the database of our Photo Compare Tool. You can see how the Samsung S8500 Wave image quality compares to that of some of the other handsets we have reviewed. Clicking any of the following three images will take you to our dedicated page for some pixel-peeping pleasure.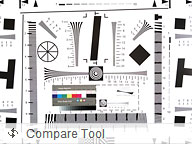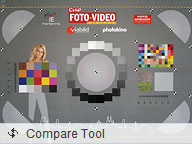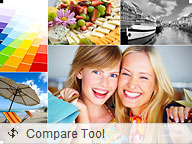 Samsung S8500 Wave in the Photo Compare Tool
Video recording
The Wave captures 720p@30fps videos. Unlike the Sony Ericsson Vivaz, the S8500 Wave doesn't feature continuous autofocus during video recording. Samsung Wave however outputs videos at full 30fps (29.970 to be precise), while the Sony Ericsson Vivaz maxes out at 24fps.The Samsung Omnia HD was also trying out for a 24fps output but even with its latest firmware (March 2010) it hardly reaches that and its videos run around 20-22 fps.
The resolved detail is excellent, perhaps the best we've seen so far among the 720p competition. Contrast is good and the noise levels and compression are amazingly low. The price of the lower compression affects the file size – 15 seconds of video take 20 MB.
But enough talking, here's a video sample made by the Samsung S8500 Wave. You can check the original video file (22MB) as well.
And here's a 720p video sample from our new test setup. Pay attention to the second half of the video where we lower the light to show you how the the camcorder performs in more challenging conditions.
Video quality comparison
The Samsung S8500 Wave was also included in our Video Compare Tool database. Check it out – the tool's page includes a quick walkthrough on how to use it and what to look for.