Christmas is coming early for T-Mobile subscribers - the first Bada OS phone Samsung S8500 Wave and the HTC Desire, the non-Google Nexus One, both fresh out of the MWC are coming their way, along with an entry-level Android, the T-Mobile Pulse Mini.
Samsung S8500 Wave
The Samsung S8500 Wave was one of the most anticipated phones at the MWC, excitement fueled by Samsung's promises of a super AMOLED touchscreen (aptly named "Super AMOLED") and the new Bada OS, which is part of Samsung's "smartphone for everyone" plan.
So, we've covered the Samsung S8500 Wave in great detail - we have a preview and a hands-on from Barcelona, complete with sample videos and pictures. There are a couple of videos showing off the new OS too, so we'll just summarize - killer screen, 720p video and slick new OS.
The Samsung S8500 Wave will be available in early second quarter of this year in the following countries: Austria, Bulgaria, Croatia, Germany, Greece, the Netherlands, Poland, Romania and Slovakia.
HTC Desire
We had a pretty good look at the HTC Desire too - check out our hands on. The Desire is not just an unbranded Nexus One - the trackball swapped for an optical trackpad and Sense UI preinstalled.




HTC Desire (also known as HTC Bravo)
As it turned out, the HTC Desire doesn't record 720p video, but the hardware is incredible - 1GHz Snapdragon CPU and 576MB of RAM. The AMOLED touchscreen is gorgeous too at 3.7".
T-Mobile UK tweet-teased the HTC Desire launch on 26th of March.
T-Mobile Pulse Mini
The T-Mobile Pulse Mini (A.K.A. Huawei U8110) is an entry-level Android phone - T-Mobile UK just launched it at 99 pounds (113 euro). The phone packs the basics - quad-band GSM/EDGE connectivity and Wi-Fi connectivity, a 3.2MP camera with LED flash, a microSD card slot and a document viewer. The screen is a QVGA 2.8-incher.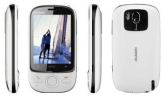 T-Mobile Pulse Mini (Huawei U8110)
The T-Mobile Pulse mini will be available in other European countries too - in the early second quarter. The listed countries are Austria, Croatia, Hungary, Montenegro, Macedonia, Netherlands and Slovakia.
Source: Deutsche Telekom, T-Mobile UK Twitter
L
Its not known the device they are talking about above is only for Europe and in Europe its going to be called the HTC Desire and in the US its going to be called the HTC Bravo. Hit the link to here what executives from HTC told android lovers about T...
N
Why is T-Mobile UK getting the Desire but not US? We're getting the bloody Cliq? I'd rather not pay $700 for a mobile.
?
Does the Htc Desire have Tmobile Usa 3G?
ADVERTISEMENTS