Livestream: Samsung takes the stage at IFA to bring us new smartwatches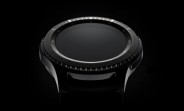 Now that the Galaxy Note no longer calls IFA "home", it's up to Samsung's Gear wearables to supply the wow factor. The Gear Fit2 Pro fitness tracker went official spontaneously, but the rumor mill also spotted the Gear Sport – the first Tizen 3.0 device – packing its bags.
The same leak that showed the Sport also featured a Gear VR (with controller) and IconX Bluetooth headphones so today's even could have more to offer than just hand accessories. We're not entirely sure if those are new devices or not – that said, the original IconX headphones were SM-R150 and these are R140, so…
Well, whatever comes out of the stream (which you can watch below), we'll be on site to check it out.
K
....except you aren't fully informed. The Gear S3 Frontier has the best hardware. It has the most efficient SoC. One of the best displays. And all the bells, whistles and features of other watches. And all of that into a hardware that's sturdy...
D
C'mon! :) Android Wear sucks. Everybody says that. All Android Wear reviwers on YouTube have the Frontiers on their wrists. The system Gear S3 has right now is way better than all Android watches together.
K
C'mon Samsung. I want the Gear S3 Frontier with AndroidWear 2.0 Make it happen! (please)