Boosted by what has undoubtedly been a spectacular sales year, Samsung is predicting an even stronger 2013. The Korean giant expects to ship a total of 510 million handsets this year.
Of that total, some 390 million are expected to be smartphones, while the remainder will be of the feature phone variety. The smartphones will mostly belong to the Android-powered Galaxy series, but should also include a larger number of Windows Phone 8 devices.
The lion's share of devices will be produced in Samsung's Vietnamese factory, where some 240 million devices are expected to be manufactured. An additional 170 million units are expected to come out of China, followed by 40 million and 20 million in Korea and India, respectively.
One of the devices that can potentially help achieve the bold 2013 predictions is the upcoming GT-i9600, which recently leaked on the Nenamark 2 site. If the results are to be believed, the upcoming device will feature a 1.4 GHz processor of an unspecified number of cores, HD display, and Mali-400 MP graphics, all on Android Jelly Bean 4.1.2.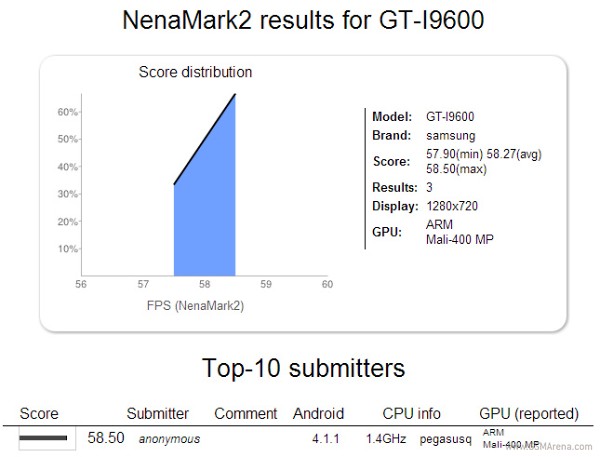 The score of 58.5 fps is close to the 60fps screen limit so it doesn't really say much in regards to the performance of the device. Almost all recent top and even some mid-range devices tend to max out the NenaMark 2 benchmark, which is capped at 60 fps.
We'll let you know when we get more information on the I9600 - if the leak turns out to be legitimate, of course.
?
how long can the king last? LOL in tech world, no such thing as forever (except for desktop OS Windows, which is the number desktop and laptop OS forever)
?
you are wrong, no such thing as forever in the tech industry. once a king, never forever a king. i give samsung 3 years at most.
B
perhaps arround 300 milion of them being delivered to replace the ones that broke down after a few mounths of usage, to cover the warranty:))
ADVERTISEMENTS