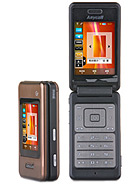 A
This phone is really similar to the Nokia 7390! La amor! :D I love it!
c
it looks really similar to nokia 7390 la amor
D
Hi, I'm Alex from Cameroon; Please I already have this phone, and I have really enjoyed it. But the problem is that it has been knock down and the screen went off; since then I have been looking everywhere for the patch, but nowhere do i find it in the whole country. How do I do, Please help me.
What can I do to have my phone fixed?
Do you know a shop where you can lead me to?
Please help?
E
Samsung SCH-W699, looks nice phone in my imagenation and personally I like such type of phone
a
this phn is upto no good
?
Is there a flip mobile in india in which i can put my two sims at once?
a
myk, 28 Mar 2010is this phone worth for Rs.50,000 ????HELL NO... 50K Rupee is too much....
m
is this phone worth for Rs.50,000 ????
Total of 9 user reviews and opinions for Samsung SCH-W699.