Introduction
The Samsung W880 ups the ante with a world's first 12 megapixel camera with 3x optical zoom. Featuring a hardware Mode dial and a real zoom lever it does feel like a real camera and you may find yourself struggling to find the mobile phone under the digicam skin. Now while W880 is South Korea bound only, it's enough to give us a taste of what's coming in the shape of the rumored Samsung M8920, which should make it our way sometime next year - but with Wi-Fi and GPS on board.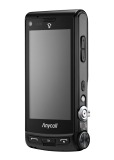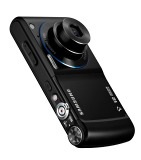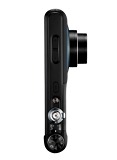 Samsung SCH-W880 AMOLED 12M official photos
Designing a mobile phone (or any other portable gadget for that matter) is a balancing act - the engineers must juggle between cost, size and features, all the while being limited by the current state of technology.
Say cost doesn't matter - that still leaves only so much that can reasonably be crammed into a mobile device. Progress is made, technology advances, which results in things getting cheaper, smaller and with more features. And quite soon, things that seemed impractical a few years back can now be released as a consumer device.
This is how the Samsung W880 AMOLED 12M came to be - it contains all the mechanical elements of a point-and-shoot camera, but still has enough room left for the phone parts. It's not the first phone to achieve that but it's the first 12-megapixel one and the added 3x optical zoom and xenon flash pretty much put it on par with a typical point-and-shoot camera.
The Samsung W880 has some high-end imaging functions too - tracking touch autofocus, 720p@30 fps video recording, 3.3" big AMOLED capacitive touchscreen with WVGA resolution. That's not something you see every day on a cameras and it's top notch in mobile phone terms. Even the degree of control over how a photo is taken beats out consumer cameras, let alone cameraphones.
Now, keep in mind that the we're previewing a prototype here and it's a prototype of a phone meant for the South Korean market only and although it has tri-band GSM and support for UMTS, those are meant for roaming only - the AMOLED 12M is for South Korea and South Korea only.
So, why bother with a preview then? Well, there's a global version coming in the beginning of next year and that might actually land in a store near you. It will look just the same but will drop the T-DMB TV receiver, which has little use outside of South Korea anyway, swapping it for the more practical Wi-Fi and GPS. Supposedly, the global GSM version will be allegedly called Samsung M8920, but that has yet to be confirmed by an official source.





Samsung W880 AMOLED 12M live shots
In this preview we focus mainly on the camera - admit it, it's the most interesting aspect of the Samsung W880 and it's the camera that has us holding our breaths.
For now, we'll just concentrate on the essentials - we take a look at the hardware, next we have a video walkthrough of the interface and finally, we focus on the camera, with plenty of still photos and video samples.
P
how to much prize samsung w880 mobile
p
The Samsung W880 model is very nice handset