While we wait for the Galaxy S III to be unveiled, another unannounced Samsung Android smartphone has been discovered by the folks at pocketnow.com.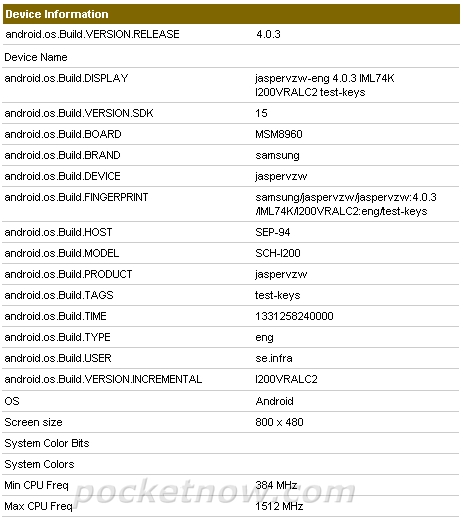 The phone's name was first discovered when Bluetooth SIG recently listed the device. Later on, the name was tracked down to a GLBenchmark entry, where further details about the handset were uncovered.
The test device was running on Verizon's network under the codename "Jasper," with the proper model name being SCH-I200. The phone was running Android 4.0.3 on Qualcomm's Snapdragon MSM8960 S4 processor clocked at 1.5GHz. This is currently the fastest processor available on the market (other than Apple's A5X), which would suggest that the phone would be a high-end device. Although curiously, it only has a 800 x 480 resolution display, which could only call high-end if it was still the year 2010.
It remains to be seen how Samsung positions this handset. With that much power and that display resolution, the phone is going to ace practically every benchmark out there.
?
Quad core does not have the 4G modem integrated into the SoC, that's why few devices have come out with the Quad. They are working on it.
?
It's the same dual-core processor found in the One S , and anyone who has known Samsung since their first Galaxy S phone should know that this device is non other than the " I9101 GALAXY SII Plus " which has a mere CPU boost to the original...
k
its a dual core not all s4 are quad it just a label system s2 basic,s3 mid range, s4 high end
ADVERTISEMENTS