Mark your calendars folks, the Samsung UNPACKED event is officially scheduled for September 3. The show will start pretty early on, 14:00 local time, but we'll be on site ready to report on all the new gadgets.
The Samsung Galaxy Note 4 will undoubtedly be the biggest attraction at the show. According to rumors it will have a 5.7" QHD Super AMOLED display, a Snapdragon 805 chipset or an Exynos 5 Octa (probably region-dependent), a 16MP camera (perhaps by Sony, not an ISOCELL) and a pile of new features. A retinal scanner? An ultraviolet light sensor?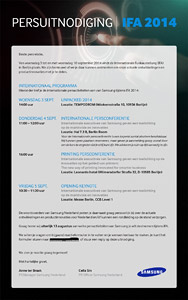 Invitation to Samsung UNPACKED for IFA 2014
Another possible guest is the Samsung Galaxy Alpha though IFA is the traditional home of Galaxy Note announcements and the flagship phablet might not want to share the spotlight.
Wearables are a likely talking point – Samsung is betting big on the new smartwatch segment – but it's anyone's guess if we'll see round smartwatches or just a reminder of Samsung's products so far.
?
S5 = medium size band-aid/salonpas Note 4 = large size band-aid/salonpas I hope this will not be the case.
?
you must really really think you're smart
?
Gee. With all the "me me me" and "i i i's" in your comment, you sound like a typical self absorbed individual who only cares for yourself. The type of person who doesn't care what you say or how it affects other people, as long as...
ADVERTISEMENTS