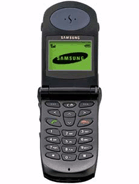 t
This is really good phone. I have now Motorola Razr.
A
I am from Iran
it was very good phone about 13 years ago but not now in 2014
O
Very "Hard Phone" and good designed, I use one today with the original battery. I bowt it in 2001 and results in an excellent cost-perfomance option. I don´t need mp3, ringtones, cameras and another... My phone is an work tool and I need hadness, and eficiency. The user interface and controls isn`t very good but is an a Samsung tradition
g
I need SGH-810.I am in Tanzania,East Africa.what are the procedures?I dont know about those kind of servers you wrote about.
J
Wha a great phone with all those cool features. But need more ringtones.
K
Waaa.. macam telefon tokeh Topo Sabah la ... hehe
Total of 6 user reviews and opinions for Samsung SGH-810.