This year, Samsung's definitely been active in the nascent smartwatch space. It unveiled the Gear 2 and Gear 2 Neo (both pictured below), Gear Live, and Gear S so far. But next year the company may be taking its smartwatch efforts to the next level.
According to a report out of Samsung's home country of South Korea, at Mobile World Congress 2015 (in early March) we could see a new wearable that will come with a built-in fingerprint scanner. And in what would be a first for a Samsung device, it may not require a swipe to register your fingerprint.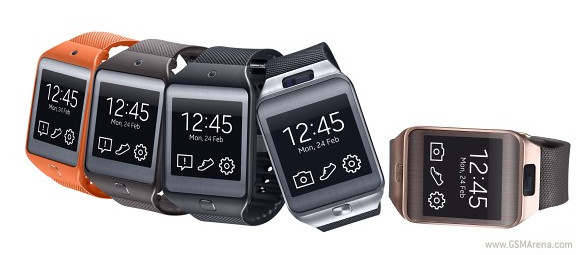 Aside from featuring that sensor and not relying on a smartphone for secure authentication purposes, this yet-unnamed smartwatch is also to sport some simple payments functionality. This will be developed by Samsung in partnership with PayPal. The two companies have already teamed up this year to enable making payments with the Galaxy S5's fingerprint sensor, so the new smartwatch venture would be a natural extension of that relationship.
The whole thing has been reportedly confirmed by "a high-ranking official at Samsung Electronics". Synaptics is also involved, thanks to its biometric know-how.
The system will send promotional offers to your smartwatch from nearby stores (based on location), so you can pick what you want to buy even before entering a shop. It will be available in over 50 countries worldwide.
Obviously the point of all this is for Samsung to be able to respond to the Apple Watch, which will become available early next year too. Samsung is clearly hoping that the built-in fingerprint scanner will give its next smartwatch the edge compared to Apple's first offering in the space.
And the payment capability is meant to take on Apple Pay, which for starters will only be available in the US.
D
desperate assmug. i mean samesung. sorry i mean scamsung. s**t i was going to say nobody likes a samsung apple-knpckoff device anymore!!
m
Smartwatch is so meh...
M
1 new watch every week gear a,b,c,d,e....after gear LTE a,b,c,d,e...