Samsung US mistakenly uploaded all details on the still unannounced Galaxy S6 Active. Its full specs and manual are out, its design is confirmed too - the leaks were right about the Galaxy S5 Active similarities.
The Galaxy S6 Active was rumored for quite a while, and today it is all but official. Samsung's support page reveals all details we need to know. Samsung Galaxy S6 Active has the same specs as its regular counterpart - a 5.1" Quad HD Super AMOLED display, Exynos 7420 chip with an 8-core processor, 32GB non-expandable storage, a 16MP rear and a 5MP front camera, and a 2,550 non-removable battery.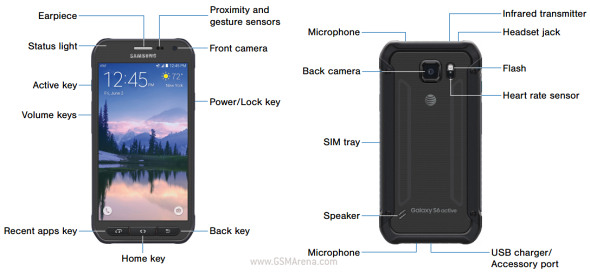 The Galaxy S6 Active is as big as the Galaxy S6 at 143.5 x 70.6 x 6.85 and weighs the same - 138 g. It has hardware control keys as the Galaxy S5 Active and an additional hardware Active key on its left side.
Naturally, as the Active moniker suggests, the Galaxy S6 Active is water and dust-proof, but there is no info if the S6 Active will come with MIL-STD-810G certification as well, which will add salt, dust, humidity, rain, vibration, solar radiation, transport and thermal shock resistance. We guess this final piece of intel will come out at the official announcement.
The Galaxy S6 Active should launch in Cameo White and Titanium Black, and probably even more paintjobs. We expect the S6 Active to be an AT&T exclusive at launch (as the manual's pictures suggest), but later to hit the international markets just like its previous Active siblings.
With Samsung US prepping its official Galaxy S6 Active pages, the announcement should happen any moment now. Not that there's much mystery remaining at this point.
D
i arranged my contract almost at the same date of the S available, and the contract of my wife at the same date of the Note available, and since i can get those phone for 99 Euro with my contract so it is easy, whereas when i do renew the contract a ...
?
Thick skin of this S6 Active makes me wonder the dimensions are identical to the original S6. Hoping the battery power is not correct and bigger. Thinking of Z3 or Z3+ for excellent battery capacity.
A
Count me out if its the same battery as the s6. Still on an S4, and been holding out for this phone since the rumors started... I'll now be looking closer at the M9 and Z3+ which is due out soon (which would mean leaving AT&T)... oh shucks...
ADVERTISEMENTS