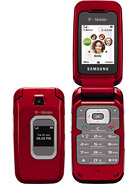 s
this phone sucks..the cam sucks except for the art frames and calling. the ringtone part sucks i have to record a song if i want to send a ringtone. this phone is not even close to ok its just sucks..i want a nokia 5130 expressmusic cause it does everything that i wished for
?
display is the worst but call sound quality is incredible.only speaker is the earpiece.when closed,the ringer is LOUD.huh?you CAN use mp3's as ringtones.use samsung studio pc suite.weird sub display acts as self portrait display.close phone then point shutter to yourself,press camera button.there you are on the monochromatis screen.i've never seen that before.found out on accident.
R
The phone is pretty simple, i did like the keyboard, dropped it a million times and it still works very good and no major scratches. The best thing about this phone is that it gets very good reception in places that were dead with other phones.
Total of 5 user reviews and opinions for Samsung T229.