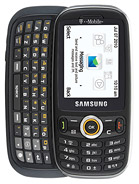 ?
please help me with a code to open my samsung T369 mobile to GSM use
J
Flat key-board is the only con with this phone. Easy to press 2 keys at once.
R
I want to download radio software into my phone which SAMSUNG SGH T369
D
Actually, the music player does not play loud enough (about 1/3 of iPod volume)
r
Very decent phone! Extremely durable and reliable. Spring weakens and becomes unpredictable occasionally, but rarely.
The camera, while low in MPix was very good at night and quality was good, but a little grainy.
Music player was nice and loudspeaker was very loud despite very slight mal-quality.
Keyboard was easy to get used to and easy to memorize where buttons were.
Messaging was not as good as I'd have liked. Not threaded and only about 130 messages could be stored for no reason.
Total of 6 user reviews and opinions for Samsung T369.