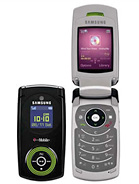 ?
i've had this fone for quite sum time..even tho its pretty basic the music player gave me a good listening experince even tho it sud use more options while playing..i've only had dropped calls about once..but maybe thats a netwrk issue not the fone itself. the sound cud be a bit higher though and ofcourse a bigger external scren :)
but on the other hand ts a pretty decent fone for basic use or if u wanna leave ur mp3 player at home lol
c
i have this phone since more than a year ...
the best mp3 player in the world but the worst cell phone !!!!!!
l
nice and compact you don't feel it in your pocket. I like the displays both inside and out. nice sound on the front speaker. what i don't like about it is the battery time. If you use the music player the power is gone real fast. To avoid surprises recharge it every night. and don't play music too often (yeah I know is a music player, but that's something you are gona have to deal with)
S
Voice Dial don't work most of the time. If you send someone a picture message and they reply It will shut off the phone when you upen the message-I believe it can't handle rich txt. Like from MSN email or hotmail. The loud speaker sounds bad. I'm not pleased and moving to Nokia
d
i've had this phone for 4 months now and man do i love it...i just read a few comments about the speaker and the sound not being good...i think you might want to return your phones cause they are obviously broken...my sound is amazing it sounds just like a music player...i download songs onto my sd card and use them for ringtones...VERY NICE PHONE
h
I got this phone for my wife free with a new contract and its pretty nice. She is very happy with it. I considered getting one but I am waiting for the Nokia 5610 ( I am partial to Nokia) anyway, this is pretty good phone, its solid, the speaker is OK but it has good sound and a pretty good interface through the player. The antenna ia good, an area she drops me every time we talk and she goes past this one area she drops me everyday, yesterday on this phone we did not lose signal. Looks good, and for free you can not beat it (no pun intended)
J
I just got the phone not to long ago and I think it's great. The volume could be better but its not very scratchy like other phones and speaker phone works great
r
i have this fone for a while already it is a very good phone but dont expect a great speaker it sucksss!!!!
?
Some nice options on this phone, but the volume is a problem. Miss lots of calls cause can't hear it ring if it is in my pocket or in another room. And that is at full volume. Can't hear caller very well either at full volume; ok if no background noise around.
Total of 10 user reviews and opinions for Samsung T539 Beat.