Samsung has just released the first teaser poster about the successor of the Galaxy S. It will hold another "unpacked" event starting on 1 February. Meanwhile the original Galaxy S just got an update to v2.2.1 of Android Froyo.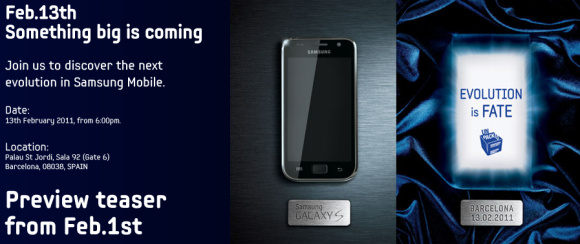 Samsung is preparing another Unpacked event. The last one was about the first Samsung Wave, which was unveiling last February. On 1 February this year we are going to see the first teaser about the next Galaxy S. According to Samsung it will be "big" and will be announced officially at the MWC on 13 February.
There is news for the current Galaxy S as well. Samsung has released an update to Android 2.2.1 via Kies. The update fixes some bugs and improves the general performance.
Unfortunately the update is currently available only in Sweden, but we guess it should hit more countries in the upcoming weeks. There is no official word from Samsung on the matter though.
At the same time, the Galaxy S phones available States-side are still waiting for their 2.2 Froyo update in the first place. The previous rumor that Samsung is charging the carriers for the update has been denied officially by the manufacturer. Samsung states it is working on the Froyo update and will release it when all the testing process is complete.
e
It shouldn't matter where, isn't Samsung international. plus what do you mean by here!
M
Where are you, coz here customer care from samsung is good, not as good as apple, but good.
m
Who would get Bada over Android?
ADVERTISEMENTS