Samsung's Bada OS launched with the top-spec'd Samsung S8500 Wave. Four previously unseen phones were shown and their relative prices were hinted at - they will soon make Bada smartphones more affordable.
At an event in St. Petersburg, Samsung showed a slide that displayed how upcoming Bada phones will be positioned relative to the Samsung S8500 Wave in terms of price (and features) - a sly way to tease us.
There are four phones shown besides the Wave, all of them cheaper and all of them with Bada OS. Two are touch screen bars and two have slideout QWERTY keyboards (with touchscreens too, of course). There's nothing else about the phones but here's how they look: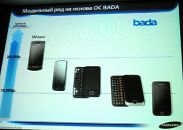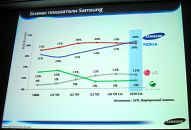 Four new Bada phones shown in Samsung event
The quartet of new Bada phones is priced below 20,000 rubles (685 US dollars, 510 euro), the cheapest of the bunch is somewhere around 10,000 rubles (about 340 US dollars or 255 euro), maybe even lower (the slide isn't very precise).
Another interesting slide from the same event is the one showing predictions that Samsung will overtake Nokia in market share this year and Bada will play a big part in that.
j
bada gave a gud start by launching a supersmart phone wave s8500 hope they carry on by launching new super smartphones better than motorola atrix
k
yet i have not watch any bada handset. after all we should congrates samsung they have made new os for mobile.from my perspective,every os builder will improve their feature and development capability for developer. other wise ,they will be destroyed...
k
yahh..i also think bada will cover and jump on other other handset's market. we have to see and wait about its performance according to specification. amazing and encouraging OS
ADVERTISEMENTS