Samsung has announced that they will be unveiling the next generation Galaxy S smartphone, colloquially called the Galaxy S IV, on March 14 at their Unpacked event, confirming some of the rumors we have been hearing right.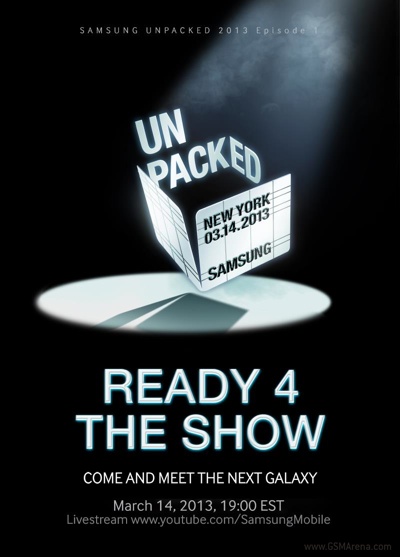 The Unpacked event is said to take place in New York City, unlike the Galaxy S III launch event which was set in London, and will be the first US launch event for Samsung in three years. Samsung says they were "bombarded with requests from U.S. mobile carriers to unveil the Galaxy S IV in the country", hence the change of venue this year.
As for the phone itself, we are still dealing with rumors that suggest a 4.99-inch 1080p display, quad-core Qualcomm processor and a 13 megapixel camera. We'll see how much of this comes to be true in a couple of weeks from now.
Update: We have the official invite now, as seen above.
D
I am going to buy this phone...
D
I dont think||| smsng will make hardwares as it in the galaxy s3.Thats for sure
ADVERTISEMENTS