One of the coolest bits about the new Samsung Galaxy S20 series is the 120Hz refresh rate of their displays. However at launch you will have to choose between 120Hz and QHD rendering as the mode was only available up to FullHD resolution. According to a new development, Samsung will bring the 120Hz@QHD mode via a firmware update.
The phones will also automatically switch between 60 and 120Hz depending on the app running to maximize battery life.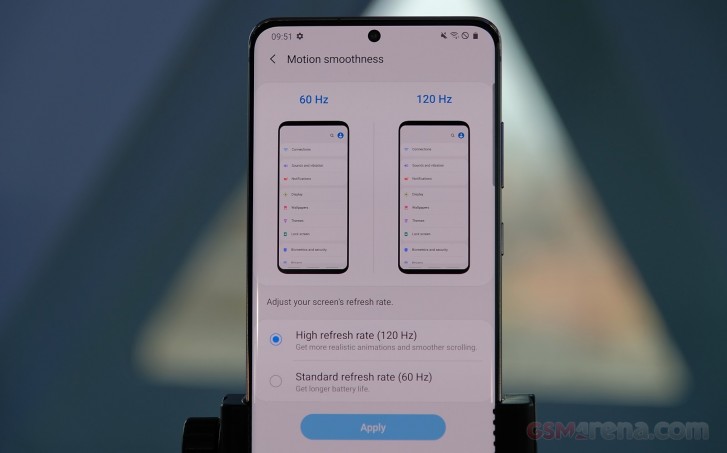 The rumor comes from a screenshot of an S20 device running on a new firmware version which shows the new Dynamic screen refresh rate option. According to speculations, the refresh rate will drop to 60Hz when the battery temperature passes 42°C (107.6°F) or the battery charge drops down to 5%. In addition, the phone will tone down the refresh rate in apps like Google Maps and the stock camera. The main reason is to conserve battery where the 120Hz won't have great impact on the user experience.

While still not the solution some users were hoping for, the new Dynamic mode looks like a step in the right direction in giving consumers the ability to take advantage of their devices' true capabilities. There is still no word on when this update is coming but we'll make sure to follow up once there are more details.
F
Have had True 90hz refresh since July, 2019. There are only maybe a handful of games that even support 120fps. Sony is the only one allowing cod to run 120. 90 is the sweet spot I believe in mobile gaming. Fhd+. Talk about silk, and such speed!!
?
1.39 SAR Head & Body Mi 9
?
Real world usage matters. Not synthetic benchmarks.
ADVERTISEMENTS