Samsung has sent out teaser images for a new event, but rather than an Unpacked event like we see for the Galaxy flagships, this is a joint Galaxy and Ativ event. It's called Samsung Premier 2013 and will be held on June 20 in London.
The teaser images shows three close-ups of, well, something. The Galaxy brand is Samsung's Android lineup, so we can expect either a phone or a tablet, but Ativ concerns only Windows 8 devices – Windows Phone 8 and Windows 8 tablets and laptops.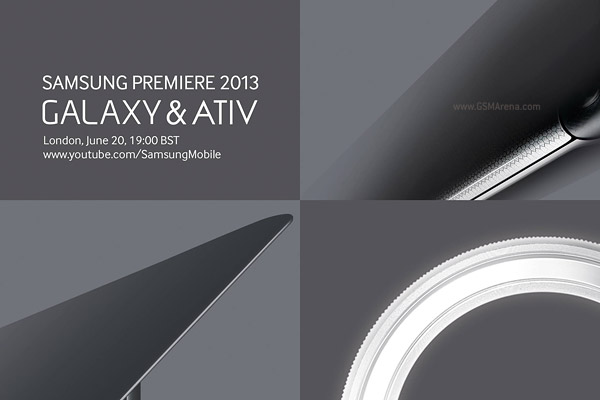 The image in the upper right corner certainly looks like the back of a laptop, while the one in the lower left looks like a tablet hybrid with a slide out keyboard (maybe something like the Sony Vaio Duo 11).
Of course, the image in the upper right can be the back of a phone with a glossy hyperglazed plastic and an underlying honeycomb pattern. It's really anyone's guess.
Then there's the image in the lower right, which is the most curious of the three – it has the shape of a camera lens ring and the only camera between the Galaxy and Ativ lines is the Samsung Galaxy Camera, which doesn't have such a ring.
Would that be the rumored Samsung Galaxy S4 Zoom, which is an S4 mini with a 10x optical zoom lens according to early unofficial reports of the device? A leaked roadmap put the S4 Zoom launch in early to mid-June, which is close enough to June 20 to make it a strong possibility.
There's also the Galaxy Camera GN120, which got a Bluetooth certification a while back and the Galaxy NX trademark.
So, at first blush it seems that Samsung is readying a new Galaxy device, possibly the S4 Zoom or the S4 Mini, a new Windows 8 tablet with a keyboard of sorts and finally, another tablet or a phone.
By the way, Samsung will most likely be live-streaming the event, which starts at 19:00 BST on June 20, on YouTube.
B
Don't forget that some girls like technology as well, so it's fangirls as well. And everyone has a right to buy whatever they want to. Whether it is Samsung, Apple, Sony, HTC, whatever.
?
If there was only one Galaxy it would be destroyed.
ADVERTISEMENTS