The rumors were true, the Samsung Galaxy S family is about to get a new member. No, not a Galaxy S IV, but a Galaxy S III mini. The news comes straight from JK Shin, Samsung's president, and the phone will be launching as soon as tomorrow.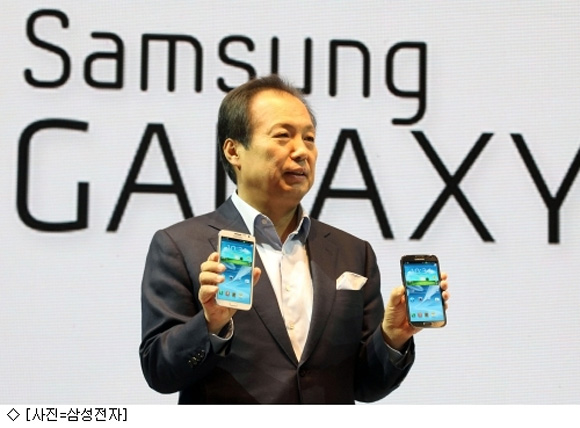 JK Shin holding the big Galaxy S III
The Samsung Galaxy S III mini is going to have a 4" screen and according to Shin it has been driven by an increased interest in smaller high-end phones in Europe (current high-end droid have 4.5+ inch screens).
The type and resolution of the screen was kept a secret, but it will probably be a 4" WVGA Super AMOLED like the first gen Galaxy S or a 4" WVGA TFT like the Galaxy S Duos.
The Galaxy S III mini will have a model number I8190 according to the rumor mill and German site AllAboutSamsung has found photos on Picasa from a phone with just that model number. The photos are shot at 3MP, but the site suggests the camera will actually have a 5MP sensor. Shin's announcement to the Korean press doesn't mention any camera specs, so we'll have to wait another day to find out.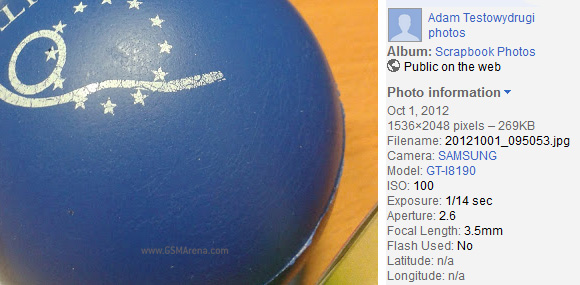 The resolution of the video captured with the Samsung Galaxy S III mini camera is not known and will probably depend on the chipset in use, which is another unknown. An Exynos 4412 Quad like its big bro and the Note II or a dual-core (this is a mini after all, the battery might not have enough juice for a quad core).
At any rate we won't have to wait long to find out, the official announcement of the S III mini is slated for tomorrow, October 11, in Germany.
Source 1 (in Korean) | Via • Source 2 (in German) (thanks Rajkumar for the tip!)
S
Ok, lots of comments here indicating severe worry about things that are just numbers or labelling games. "Galaxy" never meant anything. That only thing that matters about a phone are its specifications. This phone looks like a fairly s...
s
silly move from Samsung. they already have 150 devices with the name Galaxy. another one does nothing. and it is nothing new to speak of. Till now there was some distinction for the Galaxy S brand. but wtih a mid tier phone in that space, gone is the...
?
they already earning a lot in the large-screen phones, why not let other phone manufactuererss have a chance to earn in small screen phones?
ADVERTISEMENTS