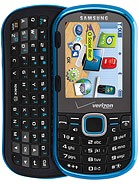 361
159
Just got one of these for free. Had a bloated battery, but I had the same type of battery laying around to test it and the phone works fine.
?
I can't seem to set the ring long enough prior to going to voice mail...pretty much have to have it in my hand when it rings to answer AND it has a "AA" on the face that i can't figure out what setting has caused it and would like to remove it

c
Currently using Samsung intensity II.

Pro
- multiple alarm clock (con: no label of each alarm)
- interesting design (simple and complex)
- feel solid
- good battery

Con
- lack 3.5mm headphone plug
- camera is pretty bad
- horrible speaker (to the degree where you can't understanding)

Overall: If you are looking for a simple phone that handles texting and phone call.

Recommendation: NO, the speaker is too horrible to even consider the phone except you speak super clearly almost like teaching a third years old.


C
I have this phone and its easy to use but I can't get my t9 to work. :(

m
i want to get this phone and am wondering can you put a pin block on the message app ? ? ? and do you no how much it would be if changed to euros ? ? ?
z
Anonymous, 23 Aug 2010I'll be getting this phone soon and I'm wondering if anyone has had problems with it, If so wh... morethe problem i am having and i have had this phone for a day now is, it will not stay on t9 or memorize my words! it is driving me insane, i love the keyboard but i also like the t9 word. can anyone help me?
?
I really like this phone alot. It is a very nice phone.And I really love the slide up phones
Total of 12 user reviews and opinions for Samsung U460 Intensity II.
ADVERTISEMENTS