As busy as a "b" can be
Samsung U800 Soul b review: As busy as a "b" can be

Inspiration is one thing you can't deny the Samsung Soul lineup. Well, that goes to the Ultra too, though all of them thin and sexy handsets are pretty much doomed to oblivion by their own offspring. Back in the day, we said the original U900 Soul was to crown the Ultra lineup. OK, we take it back; it has started a dynasty of its own. The bloodline grows stronger and spreads over different form factors. The latest Soul handset has a b index appended to its name, but any B-list connotations seem out of place here.







Official photos of Samsung U800 Soul b
The obvious shortfall is in the imaging department: Soul b is the only handset in the lineup to miss a 5-megapixel shooter. As for the rest, the pedigree is there. The ultra thin but solid brushed metal bar goes beyond looks and style. Samsung U800 Soul b boasts 3.6 Mbps HSDPA, a 16M-color QVGA display, 3 MP camera with LED flash and 1GB of microSD-expandable onboard memory.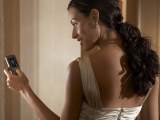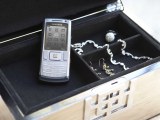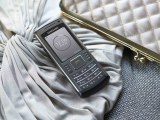 Lifestyle photos of Samsung U800 Soul b
Key features:
2.0" 16M-color TFT LCD display of QVGA resolution
3G with HSDPA (3.6Mbps) support
1GB of onboard memory, microSD expansion
Nice and responsive D-pad
Cool brushed metal casing
Just 9.9mm thickness
3 megapixel camera with LED flash
FM radio with RDS
Bluetooth (A2DP) and USB v2.0
User-friendly keypad
Office document viewer
Main disadvantages:
Tri-band only
Camera has no auto focus
Somewhat slow interface response
Slow first-time access of the microSD card
Limited browser capabilities
QCIF video recording at most





Samsung U800 Soul b at our office
With a Soul slider (Samsung U900 Soul) and a flip (Samsung G400) already there, the new Soul b bar makes sure the Spirit of Ultra lineup sets foot on all form factors. All it takes is some sick imagination and no one can stop you dreaming of a Soul handset with a full QWERTY keyboard. By the way, the Samsung U900 Soul is quietly aging in our review database (in case you've missed it here's the link), while the G400 review is in the making. So, stay tuned for our full scoop there.
Quite obviously, Samsung U800 Soul b is taking on Nokia 6500 classic. The key differences are 3G speed, memory expansion and the megapixel count. All those are in favor of the Soul b, but boy, it's a tough call with these two lookers. The thin walkman Sony Ericsson W890 might be another option to consider.




Samsung U800 Soul b • head-to-head with Nokia 6500 classic • Sony Ericsson W890
We guess that you should be interested enough to hit the small jump for our big review of the Samsung U800 Soul b.
?
in this fone there is not an option to delete recent recipients.if there is any option than do tell me plz
o
hello everyone i bought a samsung u800 today but i dont if it is a good phone or worst.. but i think it is good.!! LOL.