As busy as a "b" can be
Samsung U800 Soul b review: As busy as a "b" can be

No autofocus, but still an excellent camera
Samsung U800 Soul b is equipped with a 3 megapixel camera with maximum image resolution of 2048x1536 pixels. The camera interface very much resembles that of Samsung G800 with its rich settings.
Some of the more important settings are picture size, shooting mode (single shot, multi-shot, mosaic, and frame), effects (black and white, sepia, negative etc.), and white balance.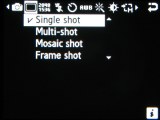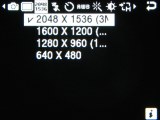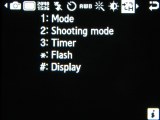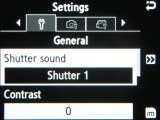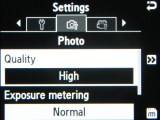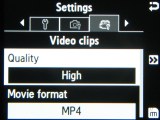 The camera interface of Samsung U800 Soul b
The picture quality of Samsung U800 Soul b is very good. We especially appreciated the image processing, which strikes an excellent balance of in-camera sharpening, noise levels and scene detail to produce commendable results.
The real downer is there is no auto focus to assist close ups, so those are impossible. Nevertheless, we are really satisfied with what the U800 Soul b offers in terms of image quality.
Here are some Samsung U800 Soul b sample camera photos:
As far as video recoding is concerned, Samsung U800 Soul b is a downright disappointment. Yes, there's good enough reasons for the Soul b bar to lose ground to the U900 Soul slider in many departments, but the QCIF video recording at 15 fps is… well… too hard to swallow.
Connectivity
With the Samsung U80 Soul b you can count on 3G with HSDPA support and GPRS/EDGE for browsing internet on the go. The 7.2 Mbps HSDPA is obviously off the reach of the Soul bar. Not that such speed is actually achievable but maybe in the years to come this will change.
In addition to the network connectivity options, the Soul b also supports USB and Bluetooth, both version 2.0. There is also A2DP support.
The phone works seamlessly when transferring data to and from PC. A notable enhancement to the Bluetooth File Browser service is the ability to make certain files or folders visible or invisible according to your needs. The USB connection has PC Studio, Media player and Mass storage modes. Each of them can be set as default or otherwise the user will be prompted for action upon connection.
Browser needs improvement
The Web browser of Samsung U800 Soul b leaves somewhat mixed impressions. We were glad to see a NetFront 3.4 web browser used, as we know what it is capable of. It turned out though its capabilities were seriously trimmed down in the U800 Soul b. There is no landscape view mode and the page resize feature doesn't work that well. When reducing the size, the font isn't handled properly and any text on the screen becomes compressed to being downright illegible.
There is also no trace of the mouse pointer we've been seeing in some of the recent Samsung and Sony Ericsson handsets, that use the same version of the NetFront web browser. On the positive side, pages are rendered well in both desktop and Smart-fit view mode. However, as mentioned, this only holds true if you are using the default page size.
Organizer and applications
The calendar of Samsung U800 Soul b offers three views - daily, weekly and monthly. There are five types of events available for setting up: appointment, anniversary, holiday, important and private. Each of those has its own unique fields and an alarm to remind of. The Calendar can store up to 100 appointments, 50 anniversaries, 50 holidays, 20 important and 20 private events. Much like with previous Samsung handsets, you can choose which calendar view should be default and pick the starting day of the week - the options are Monday or Sunday.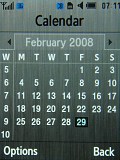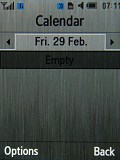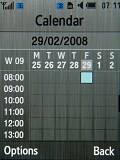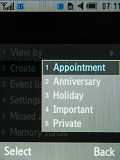 The different calendar view modes and the available events
There are five alarm slots on Samsung U800 Soul b. Each of them can have its own snooze time, number of repetitions and activation days. The volume can also be different for each alarm and all but one of them can be renamed to the user's liking. The Wake-up alarm name cannot be altered. Furthermore, you can set different tones for each of the alarms and you can choose whether it should trigger phone vibration.
Among the other offerings are the voice memo recorder, a world clock application, a calculator, and a unit convertor. A countdown timer and a stopwatch will probably be of use to sports-minded users. There is also a handy to-do manager that can help you organize your time better.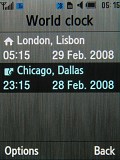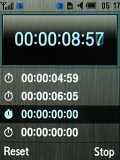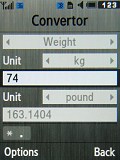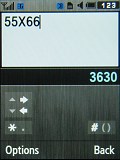 Some of the remaining applications - world clock, stopwatch, convertor and calculator
The final application worth mentioning in Samsung U800 Soul b is the integrated document viewer. It supports viewing MS Word, MS Excel and PDF files and handles them well. However, the application is so slow it ruins the whole experience. Both scrolling and zooming on documents does take ages and we find that quite annoying.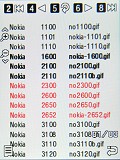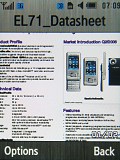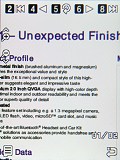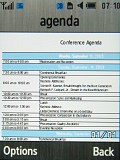 The document reader manages all common types of documents but is way too slow
Final words
Samsung U800 Soul b is a nice try to diversify the supply in the Soul lineup. It has a sleek form factor and lacks any serious disadvantages if you don't count the somewhat slow interface response and the annoying battery release mechanism that seems to engage by itself once you set the handset on a hard surface. You should bear in mind that we are reviewing a beta unit here and those things might still be updated.
Leaving that aside, the Samsung U800 Soul b certainly manages to deliver on all fronts - it's got an excellent outfit, a really good 3 megapixel camera and plenty of storage space. Some might argue that it comes a little too late as the similarly equipped Nokia 6500 classic and Sony Ericsson W890 have been around for a while and their street prices are much more reasonable now. But given a right price tag, the Soul b will earn its place under the sun and in the hearts of style conscious fans. It's an excellent package and would surely liven up things in its segment.