This article is outdated. We have already published a full review.
If there is one device by Samsung to keep the crowd at fever pitch these days, it would be the Samsung U900 Soul. The latest addition to the hugely successful Ultra lineup is surely the fattest in terms of features among its siblings. Gifted with great design and nicely improved user interface, U900 Soul had us itching for a test drive ever since our first rendezvous in Barcelona.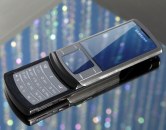 Official photos of Samsung U900 Soul
We are now busy exploring Samsung U900 Soul with a full review coming up in the weeks to follow. But here's something for the most impatient of you in a neat little preview with our first impressions of the handset.
How about kicking it off with a few shots of the Spirit of Ultra (yep, that's what the SOUL abbreviation stands for). To start with, U900 Soul is one of the beauties on the market these days. The fair amount of metal used surely benefits both design and feel.
As we've managed to confirm, Samsung U900 Soul feels great in hand and offers commendable ergonomics. The navigation solution is undoubtedly the most controversial element of the phone and user opinions will differ greatly. We, for one, did like it a lot. The touchpad is responsive and quick enough (and good looking too) to make sure the hardware D-pad won't be badly missed.
?
does anyone know if the text message sound can be changed and how?
A
I bought it and am so annoyed, though EVERY advert tells you it comes in a stainless steel case....it doesn't. It appears to be sold in 3 colours soul gray, platinum silver & sterling steel. However the shops only seem to have gray. When I contact...
P
Role on the 14/4/08 O2 upgrade and I'm going all in on this phone... NOKIA, LG ERICSSON are making phones that have no real ambition. There current phones exist because they need to slightly modify there range to compete in the market.. not because t...