One of the first things we saw landing in Barcelona for the MWC last month was a huge Samsung U900 Soul billboard. The South Korea-based company has ever since been doing everything within their powers to keep the handset in the public eye. Now with the phone safely in our office, we have the perfect chance to see if it is worth the fuss.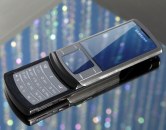 Samsung U900 Soul official photos
Key features:
5 megapixel camera (autofocus, face detection, wide dynamic range and image stabilization)
2.2" 16M-color TFT LCD display of QVGA resolution
3G with HSDPA (7.2Mbps) support
Touchpad navigation
Cool looks
FM radio with RDS
128MB of shared memory and microSD slot
Bluetooth and USB v2.0
Wide dynamic range and image stabilization in camera
User-friendly keypad
Main disadvantages:
Tri-band only
Only LED flash
Display legibility suffers under direct sunlight
Limited browser capabilities
QVGA video recording at most
By the way, our first impressions were downright positive. In the photo quality department this fashion fella challenges the current champ Nokia N95 8GB. Here is a small teaser - 100% crops from the two cameras. Which one you like better? Can you guess which one is by Samsung U900 Soul and which one is by Nokia N95 8GB?

The market rivals of Samsung U900 Soul are mostly within the Samsung family. Samsung G600 is kind of the economy package for the budget minded. The G800 is a monster of cameraphone packing optical zoom on top of the other camera goodies. That goes with massive size however and Samsung G800 isn't really as pocket-friendly as the Soul. Nokia 6500 slide also seems a nice alternative for its 3 megapixel camera with Carl Zeiss optics and great metallic body.





Samsung U900 Soul review photos
Finally, we shouldn't forget the Soul's forerunners. Samsung U600 and U700 have their own fans, although inevitably ageing. The recently reviewed LG KF600 could also steal some customers with an InteractPad that has greater capabilities than the touchpad on Soul. All in all, there is more than enough competition in the segment where the Samsung U900 is trying to succeed. And, the scene can get even more crowded, if you count some more 5 megapixel shooters.
s
does anyone know how to TURN ON the 3G settings on my samsung soul U900
?
I bought this phone a couple of weeks before. My only problem is that there's strong background hiss from the amplifier when using it with headphones. The hiss is even heard from the phone speaker. Otherwise audio quality is good - not pe...
E
Even now one year after its launch this device is one of the great all round feature mobiles. Its build quality equals or is better than many recent devices launched this year.