Samsung has said that the Galaxy Ace 4 smartphone, which was announced back in June last year and released a couple of months later, will not be getting the Android 5.0 Lollipop update.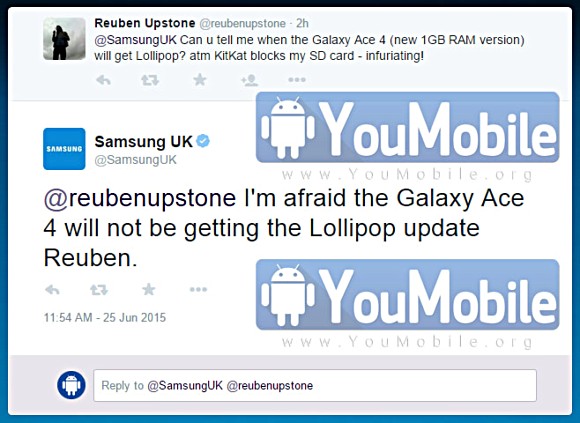 The information was revealed by the UK arm of the South Korean company through a tweet (see image above). There was, however, no official word on the reason behind the cancellation of the update.
This comes just a couple of months after UK carrier Three said that Samsung's Galaxy S4 mini won't be getting the Lollipop update due to memory limitations. However, the Ireland arm of the carrier rolled it out shortly thereafter.
Via
s
But they can update de 1GB RAM versions
?
are you serious??? do you even know anything about coding. apple(iOS) is like hitler it dictates (closed and dependent OS) hence it does not need higher specifations to accept updated. Android on the other end is open source and lets you optimize the...
?
Really? How come iPhone 4s has 512 MB and Dual Core but Apple Manage to update it to IOS 8 and soon to IOS 9.. how come samsung cannot update to new OS?