Samsung has recently announced 3 new handsets in the Ultra Edition model series. Again, as the last trio (X820, D900, and D830) they are as slim as possible, but now they are empowered with 3G connectivity.
The three phones to be included in the Ultra series are: Samsung Z720 - dubbed Ultra Edition 13.8, Samsung Z370 - dubbed Ultra Edition 8.4, and finally Samsung Z620 - dubbed Ultra Edition 11.8. Each of the numbers after the Ultra Edition model designations represent the thickness of the phones measured in millimeters.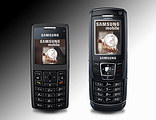 Samsung Z720 • Samsung Z370 • Samsung Z620 • Z370 and Z720
The new addition to the Ultra series was announced at the Louvre Museum in Paris as a piece of modern technology art. There's no doubt that Samsung have worked hard enough on the current Ultra design in order to make it a thing that sets standards in the mobile world.
The leader of the pack is the Samsung Z720, a HSDPA slider, which would boast a 3 megapixel camera with autofocus, a secondary camera for video calls, and 2.1" 262 color TFT display with a QVGA (240x320 pixels) resolution. The phone would have 20MB of integrated memory and would weigh the mere 80 grams.
Next in line is the even lighter Samsung Z370 weighing the meager 71 grams. The bar phone would sport a 2 megapixel camera, a secondary camera for video calls, a microSD card slot and a 1.9" 262K color TFT display with a resolution of 220x176 pixels.
Last but not least comes the HSPDA enabled clamshell Samsung Z620 which would offer a rotating 2 megapixel camera, 20MB integrated memory and a large 2.3" 262K color TFT display with a QVGA (240x320 pixels) resolution.
All the three mobiles would have Bluetooth support, a music player and the signature Samsung document viewer that allows the user to open Microsoft office and Acrobat files. The 3G trio would be available throughout Europe by the end of 2006.
Apart from the Ultra series, Samsung also announced the P310 model - successor of the P300 "calculator" phone. The new Samsung P310 keeps the compact dimensions of the predecessor and sports a 2 megapixel camera and less calculator-like keypad design. More details should be available soon.
t
hi seen some z820 phones here in chad but none of them can copy numbers to phone memory any idea whats wrong with these phones
t
a neat phone. u will buy this phone for the slimness but not for the features and usability that samsung will not win in both category.
ADVERTISEMENTS